The 2018 Epcot Food and Wine Festival is upon us, here is our handy rundown of everything you need to know about the amazing event…
Please Note: Details for the Epcot Food and Wine Festival 2019 can be found here.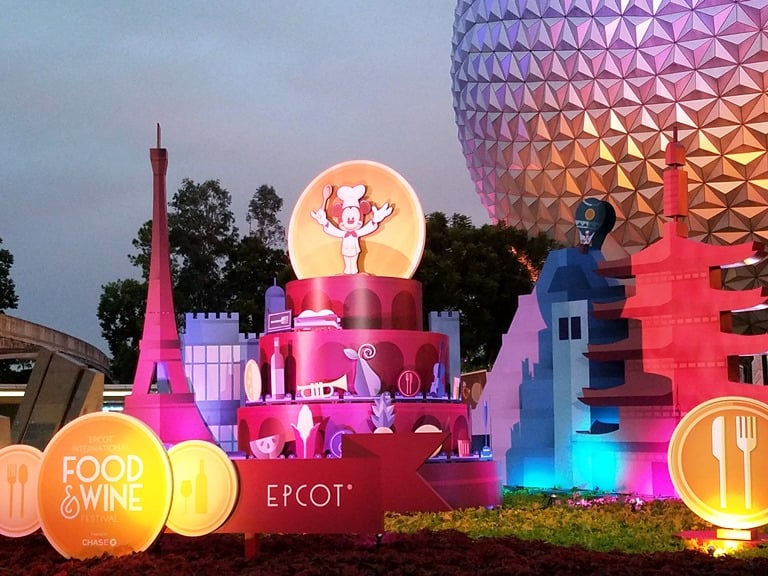 When is the 2018 Epcot Food and Wine Festival?
The event will run for a 75 days from August 30 through November 12, 2018 and will encompass most of the Epcot grounds.
What Can Epcot Food and Wine Festival Visitors Expect this Year?
According to the Disney Parks Blog, visitors to the 2018 Food & Wine Festival can expect the following:
This year's festival will continue its tradition of fine dining events, appearances by favorite Disney culinarians and top celebrity chefs, and a slate of concerts from favorite bands of the last few decades.
New Festival Events for 2018:
Sunday Brunch with the Chef: Start your day in the most delicious way at a two-hour event including a brunch buffet and featuring a distinguished culinary television personality.  While enjoying a meal inspired by some of our VIP guest's favorite dishes, attendees will be part of an in-depth question-and-answer session featuring kitchen tips, tricks and insights. Finally, foodies are in for a fabulous pièce de résistance: a sparkling wine toast and an exclusive meet-and-greet photo opportunity with our celebrated gourmet guest.
Food & Beverage Pairing: Learn from the pros at these 45-minute sessions, held each Friday to Sunday. Enjoy a collaboration between the featured chef and beverage presenter, pick up a few tips and best of all – taste the demonstrated dish and beverage pairing.
The NEW Taste Track global marketplace featuring specialty croissant doughnuts (add gelato for an extra-sweet treat) joins dozens of popular returning marketplaces. For a fourth year, global marketplaces will extend into Future World to offer brand-new taste sensations. Disney chefs are in the kitchen whipping up delicious new bites like Butternut Squash Ravioli with brown butter vinaigrette, Parmesan cheese and pumpkin seeds at The Wine & Dine Studio; Charred Chimichurri Skirt Steak with smoked corn cake, pickled vegetable slaw and cilantro aïoli at Flavors from Fire; and New Brunswick Slider, slow-braised beef brisket "pot roast-style" on a potato roll with horseradish cream, crispy fried onions and pickled vegetables on the side at the Hops & Barley
More information about these events can be found on TasteEpcot.com or by calling 407-939-3378.
Free Festival Events:
The following events are free to attend with park admission:
Back to Basics weekend series offered in the Festival Center will share epicurean tips and tricks from the pros. Book and bottle signings by some of the world's top vintners will be available, and The Chocolate Experience: From Bean to the Bar, hosted by Ghirardelli, will offer guest samples.
Eat to the Beat concerts – 225 shows in all – will rev up the America Gardens Theatre stage three times each night with new musical acts including Vertical Horizon, Sheila E, 98 Degrees, MercyMe and Glass Tiger, along with returning festival favorites spanning a broad range of eras and genres from rock and pop to rhythm and blues.
Here is the full Eat to the Beats concert series schedule:
August 30-31: Blue October
September 1-3: Tiffany
September 4-5: MercyMe
September 6-7: Glass Tiger
September 8-9: Tauren Wells
September 10-11: Postmodern Jukebox
September 12-13: Vertical Horizon
September 14-16: Baha Men
September 17-19: Plain White T's
September 20-21: Living Colour
September 22-23: Sheila E
September 24-26: Sugar Ray
September 27-28: David Cook
September 29-30: Jeffrey Osborne
October 1-2: Jim Belushi & The Sacred Hearts
October 3-4: Everclear
October 5 -7: Mark Wills
October 8-10: Air Supply
October 11-12: Anderson East
October 13-14: Smash Mouth
October 15-16: 98 Degrees
October 17-18: 38 Special
October 19-21: The Devon Allman Project
October 22-23: Kenny G
October 24-25: Billy Ocean
October 26-28: Starship featuring Mickey Thomas
October 29-31: Hanson
November 1-2: High Valley
November 3-4: Taylor Dayne
November 5-7: Boyz II Men
November 8-9: The Hooters
November 10-12: Big Bad Voodoo Daddy
Signature Dining Events:
Signature dining events for the Epcot International Food & Wine Festival went on sale on June 14th. Here is a quick rundown of the amazing dining experience festival visitors can enjoy:
Here are more details on each of these events.
Full Epcot Food and Wine Festival Menu:
Disney released the full Food & Wine Festival menu in late July. There is a LOT to choose from. Here is a full rundown of what you can expect for special food and beverages.
As the event nears, and more details are released, I will be adding much more to this post including special events, menus and ticketing info, so be sure to subscribe below and stay tuned!
Disney Park(s) in this Post:
Epcot