If you've spent any time in Epcot during the past 4 years, you no doubt have encountered endless construction walls and temporary walkways as you try to enter and navigate the park. Epcot's Future World area has been going through a  complete overhaul for years.
Well, good news! There is end in site to all the construction!
In a fairly comprehensive post about changes coming to Disney World in 2023, Disney announced this week that the massive construction project going on in the area formerly known as Future World in Epcot will, for the most part, come to an end this year! We have already seen the debut of some key components of the area like the new Guardians of the Galaxy Roller Coaster, Connections Cafe and Creations Shop. Here is a quick rundown of what else you can expect in the coming months…
Journey of Water, Inspired by Moana
Debuting this fall in World Nature, Journey of Water, Inspired by Moana is a self-guided exploration trail that will take you through the natural water cycle – from the skies to oceans and all the way back again. Just like Moana, you're encouraged to become a protector and friend to our natural resources.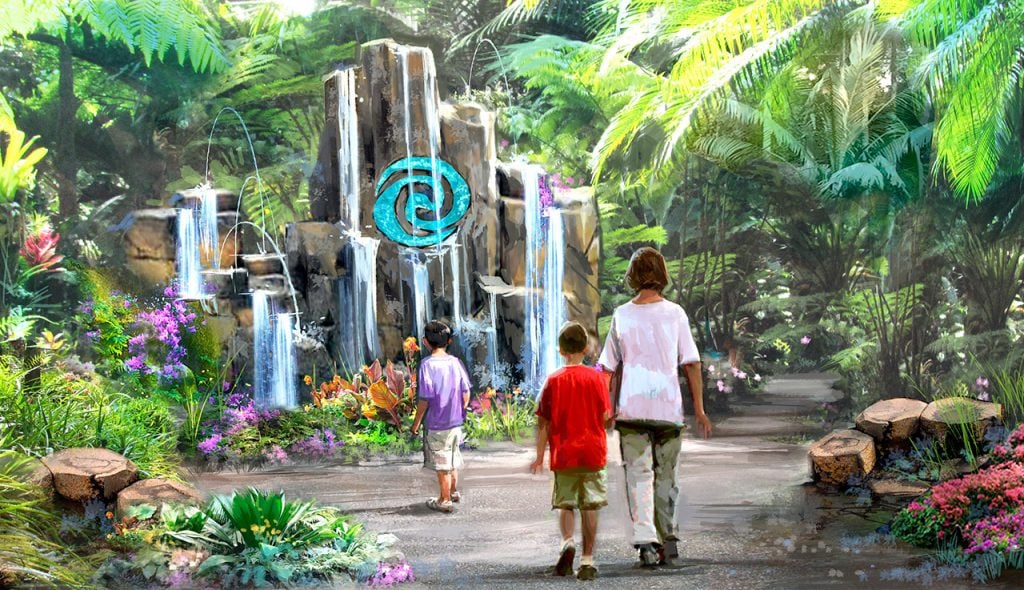 Image courtesy Disney Parks
CommuniCore Hall
When CommuniCore Hall opens in World Celebration later this year, it will be the center of festival programming throughout the park. In new renderings released today, you can see this will be home to a new character greeting location called Mickey & Friends. You'll be able to meet Mickey Mouse and some of his best pals in this colorful space.
CommuniCore Hall will also be the home of a dynamic exhibition space that will transform with each festival throughout the year. Playing with light, shapes, and reflections, the architecture of this building was designed by Walt Disney Imagineering to celebrate the legacy of Epcot and the original CommuniCore buildings.
Commemorating Disney100 at Walt Disney World
Epcot will host the Disney100 celebration at Walt Disney World Resort to commemorate this monumental milestone later this year. As well as all the new attractions and experiences mentioned above, there will be even more magic.
As we honor the legacy of Disney storytelling and unforgettable characters that have entertained and inspired people of all ages for a century, now is the time to relive those beloved Disney memories and delight in making new memories with friends and family in our theme parks
A New Nighttime Spectacular
A new nighttime spectacular will debut at Epcot later this year, inviting everyone to gather around World Showcase Lagoon for a show that will unite us through commonalities of the heart in a dazzling display of fireworks, lasers, music, and light. Featuring an original composition along with select songs from the Disney songbook, this new spectacular will remind us that we're more alike than different, connecting our hearts together as one.
Epcot is transforming in exciting ways that will offer visitors more ways to experience the park's wonder and magic. Whether you're a fan of classic Disney characters or new and exciting attractions, there's something for everyone at Epcot. So, come and experience the park's transformation and make unforgettable memories with your friends and family!
Disney Park(s) in this Post:
Epcot
---
Related News: