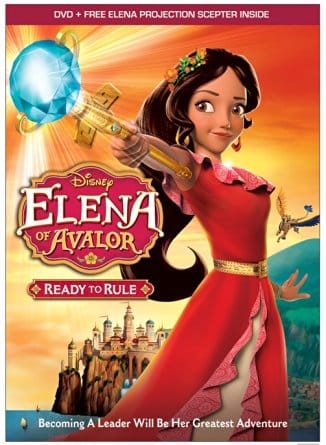 Update 10/14/16: Disney has announced that Princess Elena of Avalor will be beginning meet and greets at Walt Disney World's Magic Kingdom on November 24th. She will be located in the Princess Fairytale Hall in Fantasyland (near the Prince Charming Regal Carousel and behind Cinderella's Castle). Elena joins Cinderella, Rapunzel and Tiana at Fairytale Hall (Else and Anna moved to Epcot when the Norway Pavilion remodel was completed. Fastpass+ reservations for the new Princess Elena meet and greet will begin today.
Update 9/9/16: Disney has announced the first Elena of Avalor DVD will be available in stores for the holiday season. "Elena of Avalor: Ready to Rule" will be in stores on December 6th and is currently available for pre-order here (affiliate link). Here is a quick synopsis of the DVD from Amazon:
Loyal and brave, 16-year-old Elena must learn to reign with wisdom and compassion over Avalor — a land bursting with magic and majesty. Fortunately, she'll have plenty of help from her grandparents, her sister Isabel, wizard-in-training Mateo and more. With friends and family by her side, it's a wild and daring ride! Experience the fun, action and adventure as Disney's most inspiring new hero embarks on a bold quest to restore her kingdom to greatness and prove she's READY TO RULE!
Update 8/17/16: Elena has officially made her Magic Kingdom debut. Here is a look at the pageantry of her Royal Welcome event:
Updated 8/11/16: The Disney Channel has announced that "Elena of Avalor" will return for season 2.
Update 8/8/16: Disney announced today that Princess Elena of Avalor products have hit the shelves at Disney Park shops in advance of her grand introduction on the 11th. Visitors can now purchase "apparel, toys and other products featuring Elena and some of her magical friends such as Mateo, a wizard-in-training, and Skylar, a magical flying creature." There are also new Elena pins and magic bands for Disney park collectors.
In addition to being available in park stores, you can purchase these new products from just about anywhere using the Shop Disney Parks app or on DisneyStore.com.
Update 8/4/16: The latest Disney Princess, Elena of Avalor, will be making her Disney World debut on August 11th. She will be introduced in a special ceremony on the Forecourt Stage of Cinderella's Castle in the Magic Kingdom. The ceremony, "The Royal Welcome of Princess Elena of Avalor," takes place at 10:45am ET on August 11th and will carried live on a digital stream on the Disney Parks Blog.
The royal introduction ceremony will be replicated several times daily on the stage beginning on August 12th.
Here is a quick teaser video of the ceremony:
Update 6/10/16: The Disney Channel has released a trailer for Elena of Avalor. You can find it here.
Update 6/9/16: The Disney Channel has announced the official debut of Elena of Avalor which is slightly different than originally thought. The show will debut on July 22nd at 7pm ET on the Disney Channel.
Update 6/6/16: We now know that Elena of Avalor will premiere on the Disney Channel on August 1, 2016 and will star Aimee Carrero as Princess Elena…
Original Post: 4/20/16: Disney's PR department was very busy today. In addition to a number of announcements about new and updated park attractions, they also introduced us to the newest Disney Princess: Elena of Avalor.
Elena of Avalor is a teenager growing up in a fairytale kingdom inspired by Latin cultures. She will be starring in a new Disney Channel series this summer and will be doing character meet n greets in Disney World's Magic Kingdom beginning in August.
I am sure more details will be shared about this newest Disney Princess as her debut nears. I will be sure to share what I hear.
Disney Character(s) in this Post:
Elena of Avalor (Character)
Disney Park(s) in this Post:
Magic Kingdom Park