A Far Off Place (1993 Movie)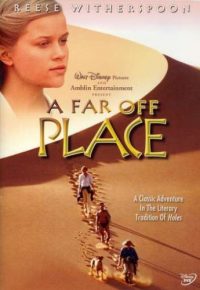 A Far Off Place Description:
In Disney's A Far Off Place , thrown together under incredible circumstances, two strangers must discover courage and strength when they begin a journey across the treacherous African desert! Equipped with only their wits and the expertise of a native bushman who befriends them, they are determined to triumph over impossible odds and reach their destination. But along the way, the trio face a primitive desert wilderness teeming with deadly obstacles, including wild animals, ruthless poachers, and severe weather conditions!
Key Cast Members:
Reese Witherspoon: Nonnie Parker
Ethan Randall: Harry Winslow
Jack Thompson: John Ricketts
Sarel Bok: Xhabbo
Robert John Burke: Paul Parker
Patricia Kalember: Elizabeth Parker
Daniel Gerroll: John Winslow
Maximilian Schell: Col. Mopani Theron
Miles Anderson: Jardin
Taffy Chihota: Warden Robert
Magdalene Damas: Nuin-Tara
---
---
---
---