ABC Commissary (Disney World)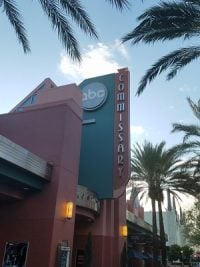 ABC Commissary Description:
Lights… Cameras…. Eating! Feast on fare with international flair amid the Art Deco setting of this studio-inspired cafeteria at Disney Hollywood Studios' ABC Commissary.
Now Starring Lunch and Dinner
Dine behind the scenes from the silver screen at this eatery straight off of a Hollywood backlot.
As you enter the commissary, let your eyes wander across film posters from the past and present lining the walls, all while movie trailers play on TVs. Then, get your appetite ready for its close-up with classic lunch options like our Angus bacon cheeseburger and the chicken club sandwich, and dinner-exclusive entrées like our seared lemon pepper salmon or chimichurri sirloin steak.
After you've made an award-winning pick, be sure to cast a beverage in a supporting role—from soft drinks and coffee to beer and wine. And don't let the credits roll on your meal before you enjoy a delectable dessert too!
Easy Ordering at Your Service
Each night at dinner, you're invited to place your order, take a pager and find a comfortable seat. Then, when your order's ready, we'll bring your food right to your table—freshly prepared and ready to eat!
---
Disney Park(s) in this Post:
Disney's Hollywood Studios
---
Related News:
---
Related Articles:
---