Advanced Training Lab (Disney World Attraction)
Here is everything you need to know about Walt Disney World's Epcot's Advanced Training Lab attraction including history, fun facts, photos and more. I hope you find this listing informative and helpful!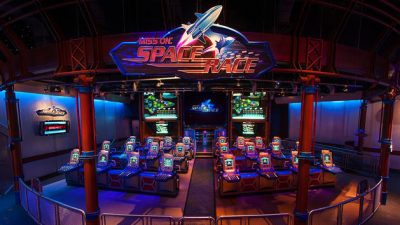 Advanced Training Lab Description:
Further your astronaut training and even create a space-age postcard at this interactive play area next to Mission:SPACE.
Whether you're returning from Mars or awaiting your favorite astronaut, decompress with an array of space-themed activities.
Mission: SPACE Race
It's astronauts versus ground control in a race to see who can send their rocket from Mars to Earth first. Up to 56 cadets can play at once. Whose team are you on?
Expedition Mars
You've got 4 minutes to use a joystick and jet-pack button to explore the surface of Mars and find your 4 fellow astronauts. Good luck, cadet!
Space Base
Junior space explorers will be inspired to reach for the stars and crawl into wormholes on this fun interactive playground.
Postcards from Space
Create and e-mail a video postcard—starring you—to anyone in the universe you please.
Disney Park(s) in this Post:
Epcot