Alive (Touchstone Movie)
Here is everything you need to know about the amazing Touchstone movie Alive including casting, reviews, fun facts and more. I hope you find this listing informative and helpful!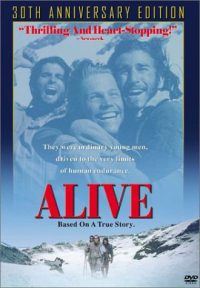 Alive Details:
Witness ALIVE, the thrilling true-life adventure of challenge and survival! In this action-packed hit, a team of tough rugby players survive a plane crash deep in the desolate, snow-covered Andes. Stranded there, they must overcome incredible odds to stay alive! See for yourself the unforgettable story of ordinary young men who find courage in the face of disaster and test the very limits of human endurance! It's an astonishing death-defying triumph that will both entertain … and inspire you!
Key Cast:
Ethan Hawke: Nando Parrado
Josh Hamilton: Roberto Canessa
John Haymes Newton: Antonio "Tintin" Vizintin
Bruce Ramsay: Carlitos Páez
John Malkovich: older Carlitos Páez/Narrator
David Kriegel: Gustavo Zerbino
Jack Noseworthy: Roberto "Bobby" Francois
Kevin Breznahan: Roy Harley
David Cubitt: Adolfo "Fito" Strauch
Gian DiDonna: Eduardo Strauch
John Cassini: Daniel Fernández
Richard Ian Cox: Ramón "Moncho" Sabella
Nuno Antunes: Álvaro Mangino
Gordon Currie: José Luis "Coche" Inciarte
Sam Behrens: Javier Methol
Michael Tayles: Alfredo Delgado
Steven Shayler: José Pedro Algorta
Michael Sicoly: the Pilot (Col. Julio César Ferradas)
Jerry Wasserman: the Co-Pilot (Lt. Colonel Dante Lagurara)
Tony Morelli: the Navigator (Lt. Ramón Martínez)
José Zúñiga: the Mechanic (Sgt. Carlos "Fraga" Roque)
Frank Pellegrino: the Steward (Sgt. Ovidio Joaquín Ramírez)
Illeana Douglas: Liliana Methol
Ele Keats: Susana Parrado
Jan D'Arcy: Eugenia Parrado
Key Crew:
Director: Frank Marshall
Producers: Kathleen Kennedy and Robert Watts
Screenplay: John Patrick Shanley
---
Related Articles:
---