Angels In The Outfield (1994 Movie)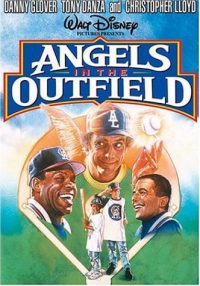 Angels In The Outfield Description:
A young boy praying for a father. A struggling baseball team praying for a pennant. George Knox is the frustrated coach of the California Angels, a ragtag team of major-league misfits who are down on their luck. But things begin to look up when 11-year-old Roger, their biggest fan, starts giving Knox some winning tips from a real live angel named Al. The team miraculously climbs back into the pennant race, all the while learning to believe in themselves in Angels In The Outfield.
Key Cast Members:
Danny Glover: George Knox
Joseph Gordon-Levitt: Roger Bomman
Brenda Fricker: Maggie Nelson
Tony Danza: Mel Clark
Christopher Lloyd: Al "The Boss" Angel
Ben Johnson: Hank Murphy
Jay O. Sanders: Ranch Wilder
Milton Davis Jr.: J.P.
Taylor Negron: David Montagne
Tony Longo: Triscuitt Messmer
Neal McDonough: Whitt Bass
Stoney Jackson: Ray Mitchell
Adrien Brody: Danny Hemmerling
Tim Conlon: Wally
Matthew McConaughey: Ben Williams
Israel Juarbe: Jose Martinez
Albert Garcia: Pablo Garcia
Dermot Mulroney: Mr. Bomman
Robert Clohessy: Frank Gates
Danny Walcoff: Marvin
O.B. Babbs: Mapel
Mitchell Page: Abascal
---
Related Articles:
---