Annapolis (Touchstone Movie)
Here is everything you need to know about the amazing Touchstone movie Annapolis including casting, reviews, fun facts and more. I hope you find this listing informative and helpful!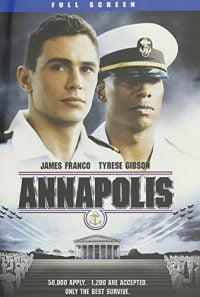 Annapolis Details:
Filled with intense action, ANNAPOLIS is an inspirational tale of courage and honor that will keep you riveted. As hard as it is to get into the most elite military academy in the country, surviving behind its walls is beyond belief. Young Jake Huard (James Franco) has always known he has what it takes to make the grade. But once inside, everything Jake thought he knew is challenged in ways he never could have imagined. Standing between him and his lifelong ambition of becoming an officer in the U.S. Navy is his company commander — Midshipman Lt. Cole (Tyrese Gibson), a relentless and merciless battle-seasoned Marine. Thrilling and exhilarating, ANNAPOLIS reaffirms the power of believing in your dreams.
Key Cast:
James Franco: Midshipman 4th Class Jake Huard
Tyrese Gibson: Midshipman 1st Class/2nd Lieutenant Matthew Cole
Jordana Brewster: Midshipman 2nd Class Ali
Vicellous Reon Shannon: "Twins"\Marcus Nance
Roger Fan: Loo
Wilmer Calderon: Estrada
Donnie Wahlberg: Lieutenant Commander Burton
Chi McBride: McNally
Brian Goodman: Bill Huard
Billy Finnigan: Kevin
Rocco Rosanio: Jake's Friend
Jim Parrack: A.J.
Charles Napier: Supt. Carter
Heather Henderson: Daniels
McCaleb Burnett: Whitaker
Matt Myers: Mr. Nance
John Fahy: Midshipman
Sam Winder: Flaming Midshipman
Key Crew:
Director: Justin Lin
Producers: Damien Saccani and Mark Vahradian
Writer: Dave Collard