Arachnophobia (Hollywood Pictures Movie)
Here is everything you need to know about the amazing Hollywood Pictures movie Arachnophobia including casting, reviews, fun facts and more. I hope you find this listing informative and helpful!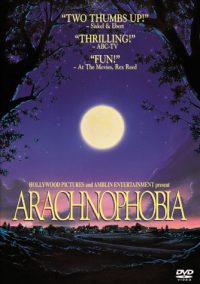 Arachnophobia Details:
Everyone is afraid of something. For Dr. Ross Jennings (Jeff Daniels), his phobia is downright embarrassing. But when he moves his family to a small town, the one thing that bugs him most is now harming the townspeople at an alarming rate. For this unlikely hero, overcoming a childhood fear of spiders might just save the community, but it may already be too late! Directed by Frank Marshall and also starring John Goodman, this hit entertains with its terrific mix of thrills, chills, and laughter!
Key Cast:
Jeff Daniels: Dr. Ross Jennings
Harley Jane Kozak: Molly Jennings
John Goodman: Delbert McClintock
Julian Sands: Dr. James Atherton
Brian McNamara: Chris Collins
James Handy: Milton Briggs
Peter Jason: Henry Beechwood
Henry Jones: Dr. Sam Metcalf
Frances Bay: Evelyn Metcalf
Roy Brocksmith: Irv Kendall
Kathy Kinney: Blaire Kendall
Stuart Pankin: Sheriff Lloyd Parsons
Mary Carver: Margaret Hollins
Marlene Katz: Shelly Jennings
Key Crew:
Director: Frank Marshall
Producer: Kathleen Kennedy and Richard Vane
Screenplay: Don Jakoby and Wesley Strick