Armageddon (Touchstone Movie)
Here is everything you need to know about the amazing Touchstone movie Armageddon including casting, reviews, fun facts and more. I hope you find this listing informative and helpful!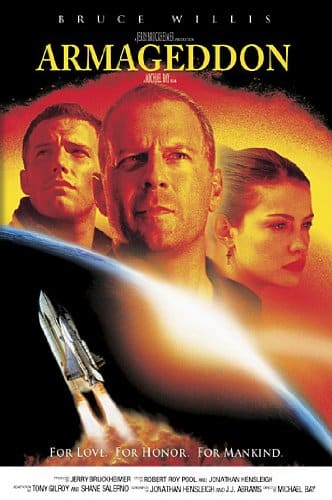 Armageddon Details:
Starring the explosive talents of Bruce Willis, Academy Award(R)-winners Ben Affleck and Billy Bob Thornton, Liv Tyler, Steve Buscemi, and Will Patton, ARMAGEDDON is a meteor storm of action-adventure moviemaking that has you on the edge of your seat forgetting to breathe! When NASA's executive director, Dan Truman (Thornton), realizes the Earth has 18 days before it's obliterated by a meteor the size of Texas, he has only one option — land a ragtag team of roughneck oil drillers on the asteroid and drop a nuclear warhead into its core. Spectacular special effects, laugh-out-loud humor, great characters, riveting storytelling, and heartfelt emotion make ARMAGEDDON an exhilarating thrill ride you'll want to experience like there's no tomorrow.
Key Cast:
Bruce Willis: Harry S. Stamper
Billy Bob Thornton: Dan Truman
Ben Affleck: A.J. Frost
Liv Tyler: Grace Stamper
Will Patton: Chick
Steve Buscemi: Rockhound
William Fichtner: Colonel Willie Sharp
Owen Wilson: Oscar
Michael Clarke Duncan: Bear
Peter Stormare: Lev Andropov
Ken Campbell: Max
Jessica Steen: Co-Pilot Jennifer Watts
Keith David: General Kimsey
Chris Ellis: Flight Director Clark
Jason Isaacs: Ronald Quincy
Grayson McCouch: Gruber
Clark Brolly: Noonan
Marshall Teague: Colonel Davis
Anthony Guidera: Co-Pilot Tucker
Greg Collins: Halsey
John Mahon: Karl
Grace Zabriskie: Dottie
Eddie Griffin: bike messenger
Narration: Charlton Heston
Key Crew:
Director: Michael Bay
Producers: Jerry Bruckheimer, Gale Anne Hurd and Michael Bay
Screenplay: Jonathan Hensleigh and JJ Abrams
---
Related Articles:
---