Avatar Flight of Passage (Disney World Ride)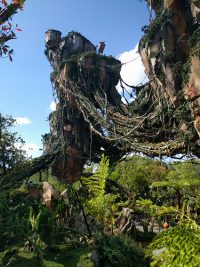 Avatar Flight of Passage Description:
On Avatar Flight of Passage, get a banshee's-eye view of the beauty and grandeur of Pandora on a rite of passage you won't soon forget!
Deep in the heart of the Valley of Mo'ara, discover Avatar Flight of Passage—an all-new expedition that lets interstellar explorers like you climb atop a mountain banshee for a breathtaking, first-person flight over the moon's incredible landscape.
Bonding with a mountain banshee is a crucial step in the life of a Na'vi hunter—and flying on the back of one of these powerful winged creatures represents an important rite of passage.
Now, as a visitor to Pandora, you'll finally have the chance to test yourself in a similar way.
Fun Facts:
Length of ride: 4.5 minutes
Flight of Passage has the most life-like animatronic in all of Disney World in its waiting queue.
Ride Experience Video:
Disney Park(s) in this Post:
Disney's Animal Kingdom
---
Related News:
---
Related Articles:
---