Before and After (Hollywood Pictures Movie)
Here is everything you need to know about the amazing Hollywood Pictures movie Before and After including casting, reviews, fun facts and more. I hope you find this listing informative and helpful!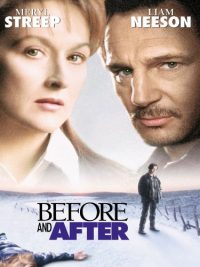 Before and After Details:
Two of Hollywood's brightest stars, Meryl Streep, and Liam Neeson deliver spellbinding performances in this riveting, suspense-filled thriller! A small, close-knit community is rocked by a shocking murder — and the only suspect is the teenage son of a respected local family. Suddenly, Dr. Carolyn Ryan (Streep) and her husband, Ben (Neeson) are faced with a gut-wrenching dilemma: Whether to risk everything on their son's innocence … or protect him from his possible guilt! Devastating yet powerfully entertaining, BEFORE AND AFTER is thrilling from beginning to end!
Key Cast:
Meryl Streep: Dr. Carolyn Ryan
Liam Neeson: Ben Ryan
Edward Furlong: Jacob Ryan
Julia Weldon: Judith Ryan
Alfred Molina: Panos Demeris
Daniel von Bargen: Fran Conklin
John Heard: Wendell Bye
Ann Magnuson: Terry Taverner
Alison Folland: Martha Taverner
Larry Pine: Dr. Tom McAnally
Kaiulani Lee: Marian Raynor
Key Crew:
Director: Barbet Schroeder
Producers: Barbet Schroeder, Joe Roth, Susan Hoffman and Roger Birnbaum
Screenplay: Ted Tally