Bicentennial Man (Touchstone Movie)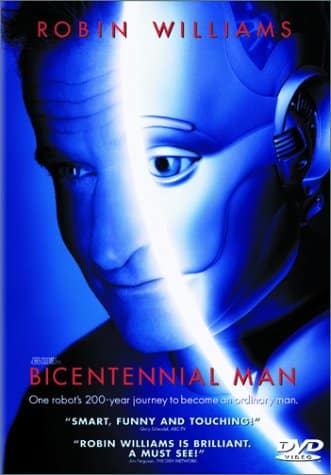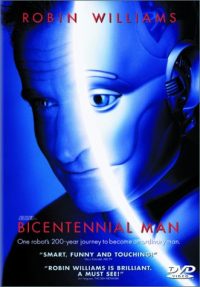 Bicentennial Man Details:
Academy Award(R)-winner Robin Williams (Best Actor) stars in a delightfully heartwarming comedy about one extraordinary android who just wants to be an ordinary guy! It doesn't take long for the Martin family to realize Andrew (Williams), who was purchased as a mere "household appliance," is no run-of-the-mill robot! Funny, incredibly lifelike, and possessing an astounding level of creativity, this special machine soon takes on a life of his own — and eventually begins a centuries-long quest to achieve true humanity!
Key Cast:
Robin Williams: Andrew Martin
Sam Neill: Richard "Sir" Martin
Embeth Davidtz: Amanda "Little Miss" Martin (adult) and Portia Charney
Hallie Kate Eisenberg: Amanda "Little Miss" Martin (age 7)
Wendy Crewson: Rachel "Ma´am" Martin
Oliver Platt: Rupert Burns
Kiersten Warren: Galatea
Stephen Root: Dennis Mansky
Angela Landis: Grace "Miss" Martin (adult)
Lindze Letherman: Grace "Miss" Martin (age 9)
Bradley Whitford: Lloyd Charney (adult)
Igor Hiller: Lloyd Charney (age 10)
John Michael Higgins: Bill Feingold
Lynne Thigpen: Marjorie Bota
Key Crew:
Director: Chris Columbus
Producers: Chris Columbus, Wolfgang Petersen, Gail Katz, Laurence Mark, Neal Miller, Mark Radcliffe and Michael Barnathan
Screenplay: Nicholas Kazan
Music: James Horner
---
---
---
---