Black Top Craft Burgers & Shakes (Disneyland)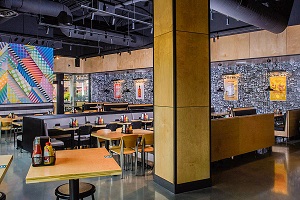 Black Top Craft Burgers & Shakes Description:
Black Top Craft Burgers & Shakes is a restaurant in Disneyland's Downtown Disney district. Here is a brief description of the restaurant from Disney:
Treat yourself to mouthwatering meals amidst décor that harkens back to the days of old-school hip-hop and pop.
Bring the heartiest of appetites to Black Tap Craft Burgers & Shakes, a brand-new bistro in the Downtown Disney District featuring quality food for all. An homage to the great American luncheonettes of our childhoods, Black Tap keeps it real with a fun, familiar, New York City vibe, circa the '80s and '90s.
Sink your teeth into a savory selection of craft burgers, including the award-winning Greg Norman—one heavenly half-pound of wagyu beef, house buttermilk-dill, blue cheese and arugula. Like nothing you've ever tasted, this fan favorite won "People's Choice" at the New York City Wine & Food Festival for 3 years in a row! Other options include chicken sandwiches, wings, salads, vegan burgers and veggies as well as a kids' menu.
Top it all off with Black Tap's signature CrazyShake—whimsical, over-the-top milkshakes stacked with slices of cake, cookies and retro candies rolled in frosting. Garnering worldwide acclaim, these decadent drink concoctions are one of the most Instagram-worthy desserts ever created. The restaurant also offers classic milkshakes as well as craft cocktails and beers from regional brewers for adults 21 and over with a valid ID.
---
Related Articles:
---