Blank Check (1994 Movie)
Here is everything you need to know about the amazing Disney movie Blank Check including casting, reviews, fun facts and more. I hope you find this listing informative and helpful!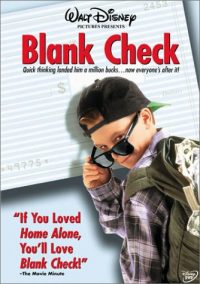 Blank Check Description:
All it takes is a little quick thinking and 11-year-old Preston Waters' life becomes a million-dollar adventure! When a crook runs over Preston's bike, he thinks it's his unlucky day. But when a quick settlement puts a blank check in his hand, he fills it in for a million bucks! Now Preston is rich beyond his wildest dreams! He's got his own pad, his own limo driver, and he's spending the money like there's no tomorrow! The only problem with having a million dollars is keeping it, especially when the FBI and the bad guys are after the loot!
Key Cast Members:
Brian Bonsall: Preston Waters
Karen Duffy: Shay Stanley
Miguel Ferrer: Carl Quigley (Mr. Macintosh)
Tone Lōc: Juice
Michael Lerner: Edward Biderman
James Rebhorn: Fred Waters
Jayne Atkinson: Sandra Waters
Michael Faustino: Ralph Waters
Chris Demetral: Damien Waters
Rick Ducommun: Henry
Maxwell Strachan: Quincy Carmichael
Alex Zuckerman: Butch
Alex Morris: Riggs
Debbie Allen: Yvonne
Mary Chris Wall: Betty Jay
Angee Hughes: Woman in Parking Lot