Boneyard (Disney World Attraction)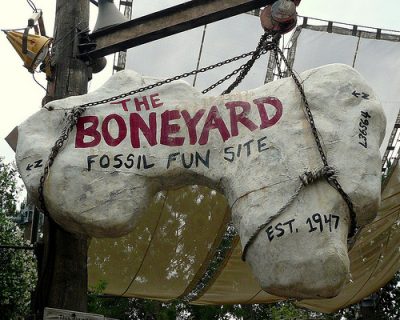 Boneyard Description:
Boneyard is an open air play space designed to look like a dinosaur dig site where kids can explore and have fun.
Fossil Fun for the Young
Experience a world of dinosaur discoveries at this interactive spot. Young paleontologists ages 10 and under can participate in fantastic prehistoric discoveries and learn more about the extraordinary world of dinosaurs.
Climb atop rocks and cross rickety rope bridges. Roam mysterious caves and hurl down twisting slides. Navigate a maze of dinosaur bones and even unearth the remains of a Wooly Mammoth in a nearby sandpit.
Primeval props and physical structures waiting to be excavated include:
A giant, multi-level maze with covered slides
An archeological dig site where kids can excavate fossils from a Triceratops and a Tyrannosaurus Rex
A set of hands-on musical bones set into the side of a hill
A Jeep® for climbing and make-believe driving
Interactive exhibits, including dinosaur footprints that make sounds
A shaded seating area at the dig site with large fans and music
Have a blast digging up the past at The Boneyard! (source)
Photo by mrkathika
---
Disney Park(s) in this Post:
Disney's Animal Kingdom
---
---
---