Camp Nowhere (Hollywood Pictures Movie)
Here is everything you need to know about the amazing Hollywood Pictures movie Camp Nowhere including casting, reviews, fun facts and more. I hope you find this listing informative and helpful!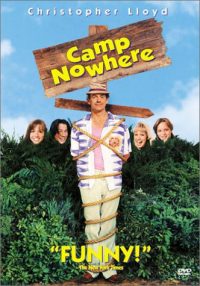 Camp Nowhere Details:
Get ready to laugh when funnyman Christopher Lloyd lights up the screen as a hilarious one-man cast of characters in this rip-roaring comedy hit! Lloyd stars as an out-of-work actor lassoed into service by a group of thrill-seeking teens. They're out to create the summer camp of their dreams — a place with no parents, no counselors, and no rules! With Lloyd's off-the-wall nuttiness in his funniest role yet, it's nonstop laughs at the wackiest summer camp ever!
Key Cast:
Jonathan Jackson: Morris "Mud" Himmel
Christopher Lloyd: Dennis Van Welker
Melody Kay: Gaby Nowicki
Andrew Keegan: Zack Dell
Marnette Patterson: Trish Prescott
Wendy Makkena: Dr. Celeste Dunbar
Thomas F. Wilson: Lt. Eliot Hendricks
Hillary Tuck: Betty Stoller
Devin Neil Oatway: Tim
Allison Mack: Heather
Jessica Alba: Gail
Michael Zorek: Chez Cheez Guy
Ian Christopher Scott: Warren
Nathan Cavaleri: Steve
Heather DeLoach: Eileen
Paige Andree: Jill
Leah Theresa Hanner: Debbie
Mooky Arizona: Arnold Spiegel
Kazz Wingate IV: Pete
Kellen McLaughlin: J.D.
Brian Wagner: Lenny
Joshua G. Mayweather: Walter
Nicolas Friedman: Ricky
Alyssa Poblador: Nicole
Krystle and Tiffany Mataras: Amber and Ashley
Peter Scolari: Donald Himmel
Romy Windsor: Nancy Himmel
M Emmet Walsh: T.R. Polk
Ray Baker: Norris Prescott
Kate Mulgrew: Rachel Prescott
John Putch: Neil Garbus
Burgess Meredith: Fein
Maryedith Burrell: Gwen Nowicki
Genie Francis: Mrs. Spiegel
Jonathan Frakes: Bob Spiegel
Peter Onorati: Karl Dell
Key Crew:
Director: Jonathan Prince
Producer: Michael Peyser
Writers: Andrew Kurtzman and Elliot Wald