Cape May Café (Disney World)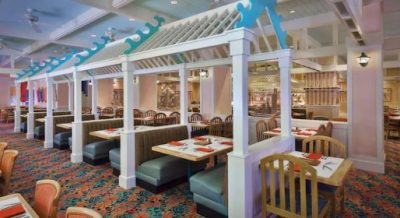 Cape May Café Description:
Cape May Café is a restaurant at the Beach Club Resort in Walt Disney World.
Minnie's Beach Bash Breakfast
Minnie and some of her friends have gathered at the Cape May Café to start the day with a Beach Bash Breakfast! They are all dressed up in their beachy best—and you are invited to join the fun!
Create unforgettable memories, get autographs and photos—and enjoy menu offerings including Mickey waffles, scrambled eggs, seasoned potatoes, sausage, oatmeal and more.
Please note: Disney Characters join Guests for breakfast only. Character appearances are subject to change.
Seafood-and-More Dinner Buffet
This seafood-and-more buffet offers a mouthwatering array of clams, mussels, crab legs, shrimp, ribs, chicken and more. Round out your meal with such hearty sides as mashed potatoes, chard and bacon, and corn on the cob. Be sure to save room for the delicious assortment of seaside sweets! (source)
Disney Character(s) in this Post:
Minnie Mouse