Casey Jr. Circus Train (Disneyland)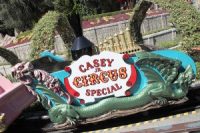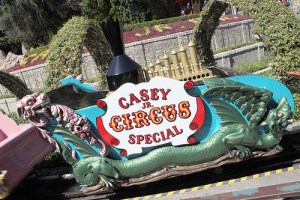 Casey Jr. Circus Train Description:
All aboard Casey Jr. Circus Train for a "mini" tour of the fairytale homes and villages made famous in classic Disney animated movies.
Hop inside a festive animal cage or ornate sleigh and follow brave engine Casey Jr.—from the classic Disney animated movie Dumbo—on a journey through Storybook Land. As you gracefully make your way over hills and through valleys, behold a brilliant tapestry of familiar settings from classic Disney movies amazingly rendered in miniature scale.
During your train ride, be on the look-out for these famous sites:
Cozy straw, stick and brick houses from Three Little Pigs
English village from Alice in Wonderland
Manicured London park from Peter Pan
Royal city of Agrabah and Cave of Wonders from Aladdin
The Dwarf's cottage from Snow White and the Seven Dwarfs
French countryside village and mountaintop castle from Cinderella
The Giant's patchwork quilt from Lullaby Land
Toad Hall from The Adventures of Ichabod and Mr. Toad
Alpine village from Pinocchio
Prince Eric's palace and King Triton's underwater castle from The Little Mermaid
Along the way, Casey Jr. faces his biggest challenge: a seemingly impossible hill. Will Casey Jr. find the courage and strength to carry you over the incline to the next destination? Do you "think he can"?
Photo by Sam Howzit
Disney Character(s) in this Post:
Alice (Alice in Wonderland)