Celtic Pride (Hollywood Pictures Movie)
Here is everything you need to know about the amazing Hollywood Pictures movie Celtic Pride including casting, reviews, fun facts and more. I hope you find this listing informative and helpful!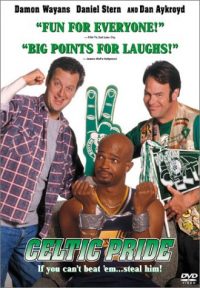 Celtic Pride Details:
Crowd-pleasing Hollywood stars score big-time laughs in this outrageous comedy about team spirit gone way out-of-bounds! Lewis Scott (Damon Wayans) is a stuck-up superstar who's about to lead his team to the NBA Championship. Jimmy (Dan Aykroyd) and his buddy Mike (Daniel Stern) are a pair of die-hard basketball fans who'd do anything to help their team win… even if it means kidnapping Scott before the final game! But when Scott ends up being a tough competitor off the court, too, he hilariously turns the tables on his dim-witted captors and sends the fast-breaking fun into overtime!
Key Cast:
Daniel Stern: Mike O'Hara
Dan Aykroyd: Jimmy Flaherty
Damon Wayans: Lewis Scott
Gail O'Grady: Carol O'Hara
Christopher McDonald: Coach Kimball
Paul Guilfoyle: Kevin O'Grady
Adam Hendershott: Tommy O'Hara
Scott Lawrence: Ted Hennison
Deion Sanders: himself
Bill Walton: himself
Darrell Hammond: Chris McCarthy
Larry Bird: himself
Marv Albert: himself
Key Crew:
Director: Tom DeCerchio
Producers: Roger Birnbaum and Judd Apatow
Screenplay: Judd Apatow