Color of Night (Hollywood Pictures Movie)
Here is everything you need to know about the amazing Hollywood Pictures movie Color of Night including casting, reviews, fun facts and more. I hope you find this listing informative and helpful!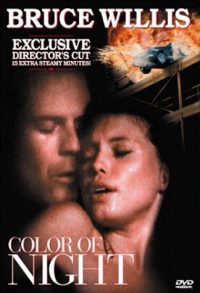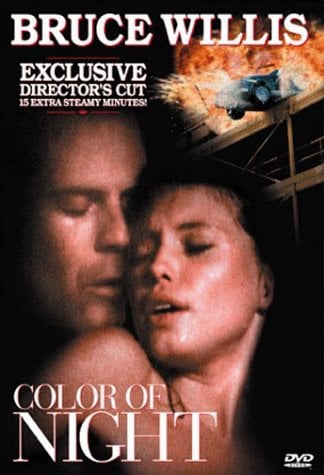 Color of Night Details:
Haunted by the bizarre suicide of a patient, New York psychologist Dr. Bill Capa abandons his successful practice and relocates to L.A.. His encounters there prove as shocking as the chilling event he has run away from, and he immediately finds himself entangled in an explosive sexual relationship with a beautiful but enigmatic woman named Rose, and the investigation into the brutal stabbing murder of a friend and colleague, Dr. Bob Moore. Dr. Capa is lured to Rose by his sexual cravings, and he discovers this woman has the power to fulfill his most reckless erotic fantasies. Yet, the more she satisfies him, the more he finds himself enslaved by her manipulation and control. As Capa gets closer to identifying the killer of his patient, Rose becomes an equally tantalizing mystery that he must solve — if he can stay alive long enough to avoid a lunatic murderer who is stalking him.
Key Cast:
Bruce Willis: Dr. Bill Capa
Jane March: Rose Dexter/Richie Dexter
Ruben Blades: Lt. Hector Martinez
Lesley Ann Warren: Sondra Dorio
Scott Bakula: Dr. Bob Moore
Brad Dourif: Clark
Lance Henriksen: Buck
Kevin J. O'Connor: Casey Heinz
Eriq La Salle: Officer Anderson
Andrew Lowery: Dale Dexter
Kathleen Wilhoite: Michelle
Jeff Corey: Dr. Larry Ashland
Shirley Knight: Edith Niedelmeyer
Key Crew:
Director: Richard Rush
Producer: Buzz Feitshans, David Matalon and Andrew Vajna
Screenplay: Billy Ray and Matthew Chapman