Con Air (Touchstone Movie)
Here is everything you need to know about the amazing Touchstone movie Con Air including casting, reviews, fun facts and more. I hope you find this listing informative and helpful!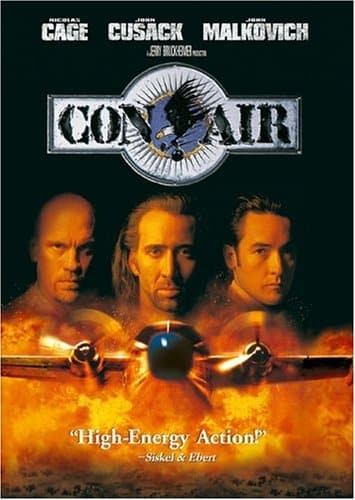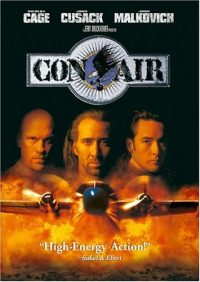 Con Air Details:
America's most hardened and dangerous criminals are transported via Con Air, customized armored aircraft equipped with armed guards, hand and leg shackles, and top secret destinations that even the prisoners aren't privy to. No one has ever escaped from one of these flying fortresses—until now. In this action-packed thriller, a group of violent and deadly cons seizes control of one of the planes, taking the guards hostage and setting a course out of the country. Poe, an inmate who has done his time and is being shipped home to be reunited with his family, proves to be a fly in the ointment who battles for control of the aircraft, averting disaster and, in a thrilling climax brings the plane down safely in Las Vegas and brings the cons to justice.
Key Cast:
Nicolas Cage: Cameron Poe
John Cusack: Vince Larkin
John Malkovich: Cyrus "The Virus" Grissom
Steve Buscemi: Garland "The Marietta Mangler" Greene
Ving Rhames: Nathan "Diamond Dog" Jones
Colm Meaney: DEA agent Duncan Malloy
Danny Trejo: Johnny "Johnny 23" Baca
M.C. Gainey: Earl "Swamp Thing" Williams
Nick Chinlund: William "Billy Bedlam" Bedford
Dave Chappelle: Joe "Pinball" Parker
Mykelti Williamson: Mike "Baby-O" O'Dell
Jesse Borrego: Francisco Cindino
Rachel Ticotin: Guard Sally Bishop
Steve Eastin: Guard Falzon
Angela Featherstone: Ginny
Monica Potter: Tricia Poe
Landry Allbright: Casey Poe
Key Crew:
Director: Simon West
Producers: Jerry Bruckheimer
Writer: Scott Rosenberg
---
Related Articles:
---