Consenting Adults (Hollywood Pictures Movie)
Here is everything you need to know about the amazing Hollywood Pictures movie Consenting Adults including casting, reviews, fun facts and more. I hope you find this listing informative and helpful!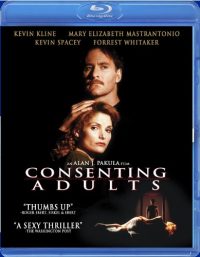 Consenting Adults Details:
Academy Award(R)-winner Kevin Kline and Mary Elizabeth Mastrantonio heat up the screen in CONSENTING ADULTS, the spine-tingling sexy thriller that seduced audiences and critics alike. When two couples living next door to each other grow too close, one of the husbands risks everything for a passion he can't resist — his neighbor's wife. His temptation traps the foursome in a shocking web of betrayal and murder. And now accused of a crime he didn't commit, he must race against time to save his family from a shocking fate.
Key Cast:
Kevin Kline: Richard Parker
Mary Elizabeth Mastrantonio: Priscilla Parker
Kevin Spacey: Eddy Otis
Rebecca Miller: Kay Otis
Forest Whitaker: David Duttonville
E.G. Marshall: George Gutton
Kimberly McCullough: Lori Parker
Key Crew:
Director: Alan Pakula
Producers: Alan Pakula and David Permut
Writer: Matthew Chapman