Coop and Cami Ask the World (Disney Channel)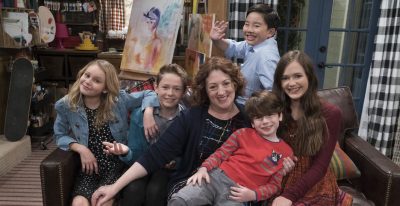 Coop and Cami Ask the World Description:
Dakota Lotus and Ruby Rose Turner lead the ensemble cast of "Coop and Cami Ask the World," a live-action comedy series about Cooper and Cameron Wrather, two middle-school siblings who make nearly all of their decisions – both mundane and madcap – by crowdsourcing opinions from the millions of followers of Cooper's online channel, Would You Wrather. Also starring are Olivia Sanabia ("Just Add Magic") as their older sister Charlotte; Albert Tsai ("Dr. Ken") as Coop's best friend Fred; Paxton Booth ("The Toy Box") as their little brother Ollie and Rebecca Metz ("Better Things") as their mom Jenna. Production has begun on the sitcom, for kids age 6-14 and their families, and is scheduled for premiere this fall on Disney Channel.
Adam Bonnett, executive vice president, Original Programming, Disney Channels Worldwide, said, "We've wanted to work with Boyce Bugliari and Jamie McLaughlin for a long time and they've done a great job of incorporating crowdsourcing into a relatable family sitcom that's perfect for our digital-native audience."
The series was created by writers/producers Boyce Bugliari & Jamie McLaughlin ("The Haunted Hathaways"). Bugliari and McLaughlin will serve as executive producers and showrunners. The multi-camera series is also executive produced by Dan Cross & Dave Hoge ("The Wizards Return: Alex vs. Alex," "The Thundermans"). Greg Schaffer ("Lab Rats: Elite Force") is co-executive producer.
Coop and Cami Ask the World Premiere Date:
The show premiered on Friday, October 12, 2018 on Disney Channel, in the DisneyNOW app and on Disney Channel VOD
In the premiere episode, Cooper and Cami are preparing for their school dance when they learn their mom is ready to start dating again, now that it's been two years since their father passed away. Much to their chagrin, her first date happens to be with their principal. Not sure what to do, they turn to the Wratherheads for advice, asking "Would you Wrather have your mom date the principal or take your mom to the school dance?"
Key Cast Members:
Dakota Lotus: Cooper "Coop" Wrather
Ruby Rose Turner: Cameron "Cami" Wrather
Olivia Sanabia: Charlotte Wrather
Albert Tsai: Fred
Paxton Booth: Ollie Wrather
Rebecca Metz: Jenna Wrather
Episode List – Season 1:
S1, Ep1: Would You Wrather Take Your Mom to the School Dance?
S1, Ep2: Would You Wrather Have A Hippo?
S1, Ep3: Would You Wrather Put a Sock in it?
S1, Ep4: Would You Wrather Have Potato Pants?
S1, Ep5: Would You Wrather Be the Prinicipal's BFF?
S1, Ep6:  Would You Wrather Get Lost?
S1, Ep7: Would You Wrather Build a Sled?
S1, Ep8: Would You Wrather Get a Moose Angry?
S1, Ep9: Would You Wrather Be Orange?
S1, Ep10: Would You Wrather Escape?
S1, Ep11: Would You Wrather Be the Heart or the Hammer?
S1, Ep12: Would You Wrather Move to Canada?
S1, Ep13: Would You Wrather Lose A Luau?
S1, Ep14: Would You Wrather Have a Beard?
S1, Ep15: Would You Wrather Catch a Fish?
S1, Ep16:  Would You Wrather Face Your Fear?
S1, Ep17:  Would You Wrather Wreck a Record?
S1, Ep18:  Would You Wrather Back Down?
S1, Ep19:  Would You Wrather Have Dance Face?
S1, Ep20:  Would You Wrather Just Dance?
S1, Ep21:  Would You Wrather Help a Wrather?
---
Related News:
---
Related Articles:
---