D3: The Mighty Ducks (1996 Movie)
Here is everything you need to know about the amazing Disney movie D3: The Mighty Ducks including casting, reviews, fun facts and more. I hope you find this listing informative and helpful!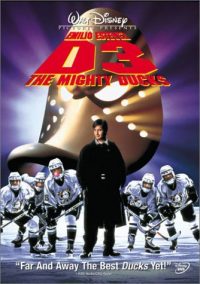 D3: The Mighty Ducks Description:
In Disney's D3: The Mighty Ducks, after the Ducks win scholarships to a snooty private school, Coach Bombay announces that he's moving on to greener pastures with the Goodwill Games. Shortly after the team arrives at Eden Hall Academy, they inherit a new coach who turns out to be their worst nightmare when he strips Charlie Conway of his position as captain! Then, with their scholarships on the line, they face their toughest rival – the 10-time championship varsity team!
Key Cast Members:
Emilio Estevez: Gordon Bombay
Joshua Jackson: Charlie Conway
Jeffrey Nordling: Coach Ted Orion
David Selby: Dean Buckley
Heidi Kling: Casey Conway
Margot Finley: Linda
Joss Ackland: Hans
Elden Henson: Fulton Reed
Shaun Weiss: Greg "Goldie" Goldberg
Vincent Larusso: Adam Banks
Matt Doherty: Lester Averman
Garette Ratliff Henson: Guy Germaine
Marguerite Moreau: Connie Moreau
Michael Cudlitz: Cole
Christopher Orr: Rick Riley
Aaron Lohr: Dean Portman
Colombe Jacobsen: Julie Gaffney
Kenan Thompson: Russ Tyler
Mike Vitar: Luis Mendoza
Ty O'Neal: Dwayne Robertson
Justin Wong: Ken Wu
Scott Whyte: Scott "Scooter" Holland
Benjamin Salisbury: Josh
---
Related News:
---