Dangerous Minds (Hollywood Pictures Movie)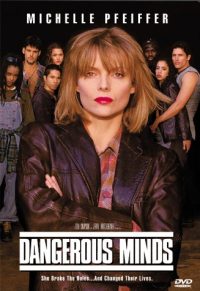 Dangerous Minds Details:
Former U.S. Marine LouAnne Johnson, a first-time high school teacher assigned to a class of tough but smart inner city students. When conventional methods fail to reach them, the feisty Ms. Johnson tries the unconventional — defying the rules and creating her own curriculum! In the process, she instills a new self-confidence in her students — motivating them toward their greatest potential.
Key Cast:
Michelle Pfeiffer: LouAnne Johnson
George Dzundza: Hal Griffith
Courtney B. Vance: George Grandey
Robin Bartlett: Carla Nichols
Beatrice Winde: Mary Benton
John Neville: Waiter
Lorraine Toussaint: Irene Roberts
Renoly Santiago: Raul Sanchero
Wade Dominguez: Emilio Ramirez
Bruklin Harris: Callie Roberts
Marcello Thedford: Cornelius Bates
Roberto Alvarez: Gusmaro Rivera
Richard Grant: Durrell Benton
Marisela Gonzalez: Angela
Toni Nichelle Buzhardt: Nikki
Norris Young: Kareem
Rahman Ibraheem: Big G
Desire Galvez: Taiwana
Wilson Limpo: Roderick
Raymond Grant: Lionel Benton
Veronica Robles: Stephanie
Michael Archuleta: Oso
Deshanda Carter: Tanyekia
Ebony Jerido: Deanne
Brandi Younger: Grip
Asia Minor: Pam
Karina Arroyave: Josy
Paula Garcés: Alvina
Ivan Sergei: Huero
Mark Prince Edwards: PJ
Ismael Archuleta: Lalo
Skye Bassett: Jody
Gaura Vani: Warlock
Cynthia Avila: Mrs. Sanchero
Roman Cisneros: Mr. Sanchero
Camille Winbush: Tyeisha Roberts
Al Israel: Mr. Santiego
Jeffrey Garcia: Raoul
Brian Anthony: Joey
Jason Gutman: Adam
Key Crew:
Director: John Smith
Producers: Don Simpson and Jerry Bruckheimer
Screenplay: Ronald Bass
---
Related Articles:
---