Death Star Office Desk Lamp – Rogue One: A Star Wars Story
Last Updated on: April 25th, 2020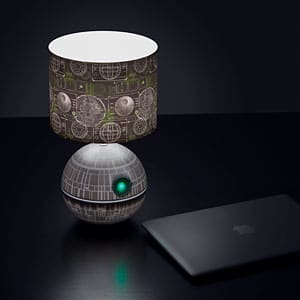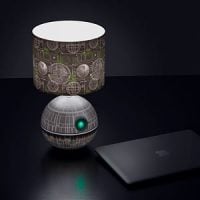 It is a period of civil war. Rebel space ships striking from a hidden base have won their first victory against the evil Galactic Empire. During the battle, Rebel spies managed to steal secret plans to the Empire's ultimate weapon, the DEATH STAR, an armored space station with enough power to destroy an entire planet.
The story is well known across the universe, but the story that's not known is that the "plans" they speak of weren't blueprints rolled into a cardboard tube or photographed using a tiny concealable micro-camera. No. The plans were, in fact, a tiny scale model disguised as a simple desk lamp.
It's true! This desk lamp is hidden in plain sight with colorful LEDs in the spherical space-station base and in the shade. The lamp itself was surprisingly functional and practical. The lamp was designed to be completely self-contained, so no light-bulbs are required for operation. LEDs are included and designed to burn for 60,000 hours, or nearly 7 years of continual operation. If Luke doesn't get to it first.
Death Star Office Desk Lamp Features:
Desktop lamp with base shaped like the Death Star
Officially-licensed Star Wars merchandise
A ThinkGeek exclusive
Plastic shade features the plans for the Death Star
LEDs in the Death Star Base and behind the lampshade
Features three different lighting modes: shade only (145 lumens), shade and base (185 lumens), or base only (10 lumens)
The Concave Dish Composite Beam Superlaser has a touch sensor – use the Force to turn it on/off and switch between modes
AC Powered:

110v/240v 50Hz/60Hz AC Adapter
Outputs 5V 1A

Dimensions:

12 inches tall
Lampshade – 8 inches in diameter

Light-source: white and RGB LEDs, included, not user-replaceable
This is not a toy and is not intended for use as a night light.