Disney Minnie's Walk & Play Puppy Toy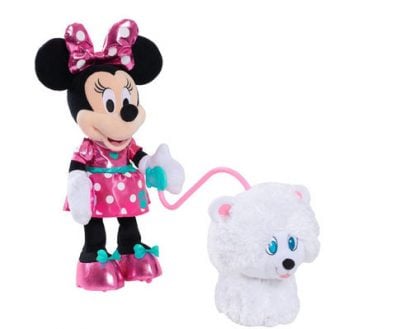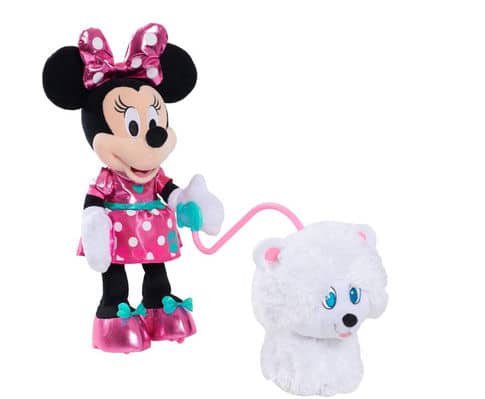 No job is too small for Disney Junior's Minnie's Happy Helpers! It's true puppy love for Minnie Mouse as she trains and walks sweet pooch Snowpuff! The Minnie's Walk and Play Puppy Plush features two modes of play. First, use Minnie's clicker to teach Snowpuff to bark, spin, and dance. Then go on a dog-walking adventure together! Minnie sings and talks to her furry friend, and Snowpuff makes happy doggy sounds!
It's time for a puppy playdate! The Disney Junior Minnie's Walk & Play Puppy comes with a talking and singing Minnie Mouse toy, plus her sweet pooch, named Snowpuff. She can't wait to take her plush pup for a walk on the leash. Afterwards, she can use the clicker to teach Snowpuff fun tricks, like barking, spinning and dancing. With her pet by her side, Minnie is bound to have so many fun, new adventures.
Disney Minnie's Walk & Play Puppy Highlights
Includes Minnie Mouse, her adorable plush puppy, Snowpuff, a leash and a training clicker
Two modes of play afford hours of fun
In Teach mode, use Minnie's clicker to show Snowpuff how to bark, spin and dance
In Walk mode, Minnie can take Snowpuff on an adventure with the leash
Listen as Minnie talks and sings and Snowpuff makes happy doggy sounds
Minnie requires three AAA batteries and Snowpuff requires three AA batteries (included)
Recommended for ages 3 years and up