Disney Riviera Resort (Disney World)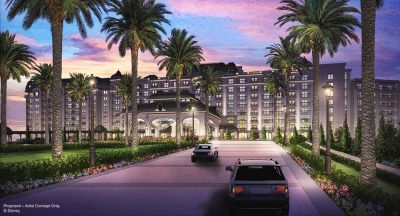 What We Know About Disney Riviera Resort:
This resort is the next planned development for Disney Vacation Club. This new resort experience is slated to be the 15th Disney Vacation Club property with approximately 300 units spread across a variety of accommodation types. Disney World's new Skyliner transportation system will connect the new resort to other areas on Walt Disney World property
According to Bob Chapek, Chairman of Walt Disney Parks and Resorts: "We're thrilled to announce plans for a new Disney Vacation Club property called Disney Riviera Resort coming to Walt Disney World Resort. Our Vacation Club Members are among our most loyal fans, and we think that they will love what we have planned, especially the rooftop restaurant that will offer unbelievable views of nighttime spectaculars at both Epcot and Hollywood Studios."
At Destination D in November 2018, Chapek gave us a bit of the Riviera Resort's backstory. According to the report on the Disney Parks Blog:
"This proposed 15th Disney Vacation Club property, projected to open Fall 2019, is inspired by the European grandeur Walt Disney experienced in his travels along Europe's Mediterranean coastline. As you can see from this newly released rendering, Disney Vacation Club Members and other guests will have a great view of fireworks spectaculars and easy access to the Disney Skyliner, which will have a station at the resort.
In 1935, not long after Mickey Mouse was born, Walt took a break from the production of Snow White and the Seven Dwarfs. Walt & Lillian and Roy & Edna Disney took an extended grand tour of Europe that would have an impact on Disney storytelling for decades to come. With its castles and colorful, fairy-tale villages, Walt fell in love with Europe – the art, the architecture, the food, and, of course, the stories. "
Resort Restaurants:
Topolino's Terrace – A new signature rooftop restaurant. This restaurant will be a fine dining experience featuring flavors of the Riviera. The restaurant will be high enough and uniquely positioned to be able to watch both the Epcot and Hollywood Studios nighttime shows. There will also be a Disney character breakfast at Topolino's, but details for this have yet to be released. Bookings are now available for Topolino's for reservations beginning on 12/16/19.
Le Petit Cafe – The resort's lobby coffee/wine bar.
Primo Piatto – The resort's quick service restaurant.
Voyageur's Lounge – This resort bar will be overlayed with a theme of European travel.
Bar Riva – The resort's pool bar.
Resort FAQs:
When will the Disney Riviera Resort open?

Open is currently projected at December 16, 2019; Reservations are currently open for stays beginning in December 2019.
DVC sales opened to DVC members on March 27, 2019 and then opened to non-members on April 15th.

Where will Disney Riviera Resort be located?
---
Related News:
---
Related Articles:
---