Do Dooni Chaar (2010 Movie)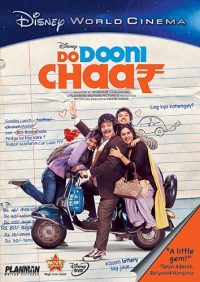 Do Dooni Chaar Description:
From the Disney World Cinema Collection, Do Dooni Chaar is a heart-warming comedy about life, family & the pursuit of dreams. Life can be tough for honest, principled school teacher Santosh Duggal. He's constantly coping with the demands of his family versus his ever-decreasing salary. His teenage daughter is an independent rebel. His ambitious son is involved in illegal gambling. His wife has a taste for the finer things in life. They're just a typical, middle-class dysfunctional family. When the Duggal family decides to follow their dream and upgrade from a scooter to a car, they embark on a roller-coaster ride filled with chaos, laughter and ultimately, the true meaning of family.
Key Cast Members:
Rishi Kapoor: Santosh Duggal
Neetu Singh: Kusum Duggal
Archit Krishna: Sandeep 'Sandy' Duggal
Aditi Vasudev: Payal Duggal
Akhilendra Mishra: Farooqui
Supriya Shukla: Urmi (Fuppu)
Natasha Rastogi: Salma Farooqui
Viccky Baidyanath: Police Man