Duets (Hollywood Pictures Movie)
Here is everything you need to know about the amazing Hollywood Pictures movie Duets including casting, reviews, fun facts and more. I hope you find this listing informative and helpful!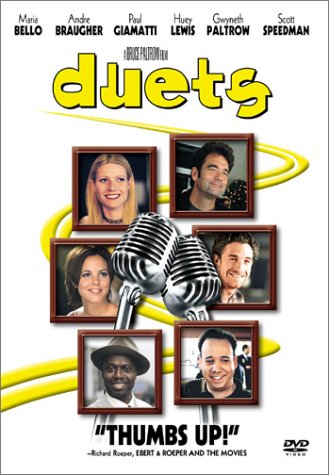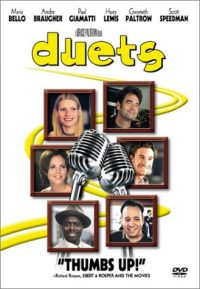 Duets Details:
Academy Award(R)-winner Gwyneth Paltrow and Scott Speedman are part of the stellar ensemble cast in a hilariously offbeat comedy! The lives of six strangers become outrageously intertwined when a riotous road trip culminates at the site of the national Karaoke championships. As they compete for the $5,000 grand prize, this unlikely group will eventually learn all about each other … while discovering answers to the questions about themselves! Also featuring great performances from Maria Bello, Andre Braugher, Paul Giamatti, and Huey Lewis — you'll agree with audiences everywhere who fell in love with this uncommonly entertaining comedy!
Key Cast:
Gwyneth Paltrow: Liv Dean
Huey Lewis: Ricky Dean
Maria Bello: Suzi Loomis
Andre Braugher: Reggie Kane
Paul Giamatti: Todd Woods
Scott Speedman: Billy Hannan
Lochlyn Munro: Ronny Jackson
John Pinette: Finals singer
Angie Dickinson: Blair
Maya Rudolph: Omaha Hostess
Keegan Connor Tracy: Shelia
Kiersten Warren: Candy Woods
Marian Seldes: Harriet Gahagan
Aaron Pearl: Buddy
Steve Oatway: Ralph Beckerman
Key Crew:
Director: Bruce Paltrow
Producers: John Byrum, Kevin Jones and Bruce Paltrow
Screenplay: John Byrum
---
Related Articles:
---