Emil And The Detectives (1964 Movie)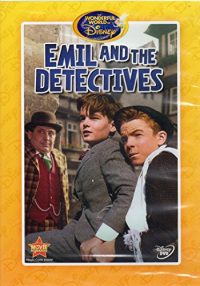 Emil And The Detectives Description:
In Disney's Emil And The Detectives, when Emil travels by bus to Berlin to visit his family, his money is stolen by a crook who specializes in digging tunnels. While following the thief, Emil runs into Gustav, a young boy who gathers up all his friends to help Emil find the money. However, they get into more trouble than they bargained for when Emil's pickpocket turns out to be mixed up with a couple of notorious bank robbers.
Key Cast Members:
Walter Slezak: Baron
Bryan Russell: Emil Tischbein
Roger Mobley: Gustav
Heinz Schubert: Grundeis the thief
Peter Ehrlich: Muller
Cindy Cassell: Pony
Elsa Wagner: Grandma
Eva Ingeborg Scholz: Frau Tischbein
Wolfgang Völz: Wachtmeister Stucke
Brian Richardson: The Professor
Robert Swann: Hermann
David Petrychka: Dienstag
---
Related Articles:
---