Evita (Hollywood Pictures Movie)
Here is everything you need to know about the amazing Hollywood Pictures movie Evita including casting, reviews, fun facts and more. I hope you find this listing informative and helpful!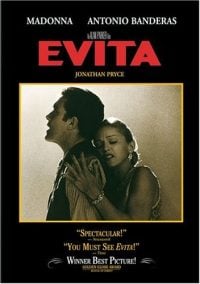 Evita Details:
Few times in the history of Hollywood has a film been released with the scope and daring of EVITA! Now, experience this landmark achievement as Madonna — in the role of a lifetime — joins Antonio Banderas for a motion picture event! EVITA is the riveting true-life story of Eva Peron (Madonna), who rose above childhood poverty and a scandalous past to achieve unimaginable fortune and fame. Despite widespread controversy, her passion changed a nation forever!
Key Cast:
Madonna: Eva Perón
Antonio Banderas: Ché
Jonathan Pryce: Juan Perón
Jimmy Nail: Agustín Magaldi
Victoria Sus: Doña Juana Ibarguren
Julian Littman: Juancito Duarte
Olga Merediz: Bianca Duarte
Laura Pallas: Elisa Duarte
Julia Worsley: Erminda Duarte
Peter Polycarpou: Domingo Mercante
Gary Brooker: Juan Atilio Bramuglia
Andrea Corr: Juan's mistress
Alan Parker: Tormented film director
Peter Hughes: General Francisco Franco
Key Crew:
Director: Alan Parker
Producers: Robert Stigwood, Alan Parker and Andrew Vajna
Screenplay: Alan Parker and Oliver Stone
Music: Andrew Lloyd Webber