Fast Layne (Disney Channel Show)
Here is everything you need to know about the amazing Disney show Fast Layne including casting, reviews, fun facts and more. I hope you find this listing informative and helpful!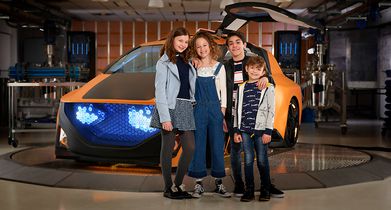 Fast Layne Description:
A turbocharged miniseries geared toward kids (age 6–11) and their families, "Fast Layne" features eight can't-miss episodes full of humor, mystery, action and adventure.
Twelve-year-old Layne Reed has her overly-organized life scheduled down to the minute, including homework, music lessons and a ton of extracurricular activities. She's even found time to run for president of her middle school. Her life is turned upside down when, along with her free-spirited neighbor Zora, she discovers a tech-enhanced talking car named "VIN" hidden beneath an abandoned shed in her backyard.
A mischievous VIN convinces the girls to release him from his confinement, and with a shout of his favorite catchphrase—"Cue tire squeal!"—takes them on an exciting joyride around the neighborhood. However, they soon realize that VIN is being pursued by a pair of mysterious villains who are determined to capture him. Layne decides to help her new friend, but first, she must figure out why he was created—and who built him.
Luckily, Layne can turn to her classmate Cody, a smart and charming boy who works in his Abuelo's garage and has a talent for fixing cars, even complicated ones like VIN. She also navigates prodding questions from her younger cousin Mel, a nosy survivalist-in-training who is determined to uncover her secret. In the meantime, as she joins together with Zora, Cody and VIN to outsmart the bad guys, Layne faces her fears and learns important lessons about friendship, teamwork and standing up for what you believe. (source)
Key Cast Members:
Sophie Pollono: Layne Reed
Sofia Rosinsky: Zora Morris
Brandon Rossel: Cody Castillo
Winslow Fegley: Mel
Nate Torrence: The voice of VIN
Key Crew Members:
Creator: Travis Braun
Executive Producers: Travis Braun, Matt Dearborn and Tom Burkhard
Episode Listing:
Ep 101: Mile 1: The Voice in the Shed
Ep 102: Mile 2: Paid to Drive
Ep 103: Mile 3: Vin Goes Wild
Ep 104: Mile 4: Changing Lanes