First Kid (1996 Movie)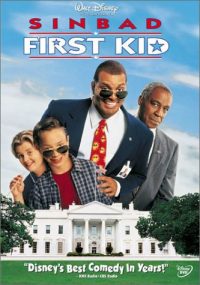 First Kid Description:
In Disney's live action comedy First Kid, Sam Simms, a wisecracking Secret Service agent is assigned to protect the President's rebellious 14-year old son Luke. Simms would much rather be protecting the President, and Luke would prefer to be just a regular kid without a watchdog trailing him everywhere he goes. But when Luke's mysterious Internet buddy convinces him to ditch his bodyguard in a crowded mall, the fun and games suddenly become a matter of life and death!
Key Cast Members:
Sinbad: Sam Simms
Brock Pierce: Luke Davenport
James Naughton: President Paul Davenport
Timothy Busfield: Agent Woods
Art LaFleur: Morton
Robert Guillaume: Wilkes
Lisa Eichhorn: Linda Davenport
Blake Boyd: Dash
Erin Williby: Katie Warren
Zachery Ty Bryan: Rob MacArthur
Bill Cobbs: Speet
Tomas Arana: Harold
Sonny Bono in a cameo appearance: himself.
Bill Clinton in a cameo appearance: himself.
---
Related Articles:
---