Fossil Fun Games (Disney World Attraction)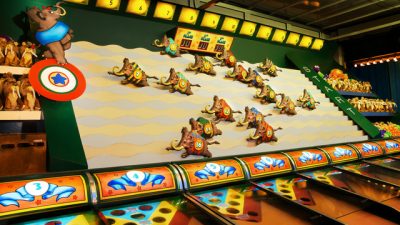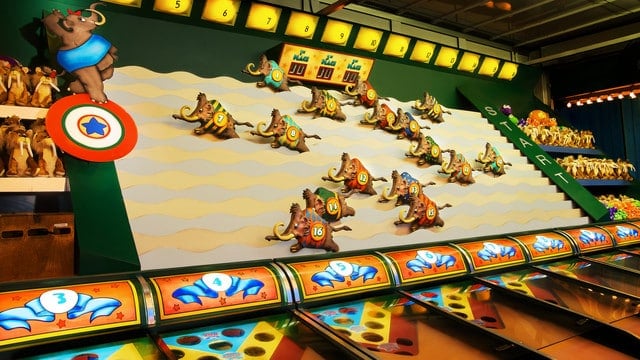 Fossil Fun Games Description:
At Fossil Fun Games, play wacky carnival-style, dinosaur-themed games in the heart of DinoLand U.S.A.
Fossil Fun Games is home to 6 madcap games of skill designed with your entire family in mind. Similar to the classic boardwalk games of yesteryear, you are invited to try your hand and compete for the opportunity to win great prizes.
Games include:
Whac-A-Packycephalosaur
Smack mischievous dinosaurs with your mallet as they pop up from their holes.
Fossil Fueler
Take aim and compete against others at this prehistoric, gas station-themed water-squirt game.
Mammoth Marathon
Roll balls into holes to move your wooly mammoth forward in a race to the finish line.
Comet Crasher
Toss "comets" into a watery galaxy of moving goblets. If you land one, you win!
Bronto-Score
Successfully shoot basketballs into a hoop to score a prize.
In keeping with the carnival theme, the Fossil Fun Games area also includes a curvy carnival mirror, a painted photo backdrop, a concession stand and a private picture booth. (source)
---
Disney Park(s) in this Post:
Disney's Animal Kingdom
---
---
---