Funny Bones (Hollywood Pictures Movie)
Here is everything you need to know about the amazing Hollywood Pictures movie Funny Bones including casting, reviews, fun facts and more. I hope you find this listing informative and helpful!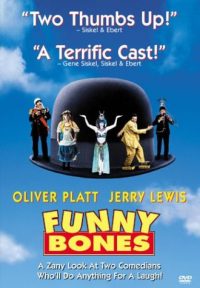 Funny Bones Details:
Struggling in the shadow of his famous comedian father (world-renowned entertainer Jerry Lewis), a young comic (Oliver Platt) retreats to his old hometown when his act bombs in Las Vegas. Ready to try anything for inspiration, he's in for more than a few surprises before learning that his own eccentric family is the best material for a perfect act!
Key Cast:
Oliver Platt: Tommy Fawkes
Jerry Lewis: George Fawkes
Lee Evans: Jack Parker
Leslie Caron: Katie Parker
Richard Griffiths: Jim Minty
Sadie Corre: Poodle Woman
Oliver Reed: Dolly Hopkins
George Carl: Thomas Parker
Freddie Davies: Bruno Parker
Ian McNeice: Stanley Sharkey
Christopher Greet: Lawrence Berger
Ruta Lee: Laura Fawkes
Harold Nicholas: Himself
Peter Gunn: Nicky
Key Crew:
Director: Peter Chelsom
Producers: Peter Shelsom and Simon Fields
Writers: Peter Chelsom and Simon Fields