Gadget's Go Coaster (Disneyland)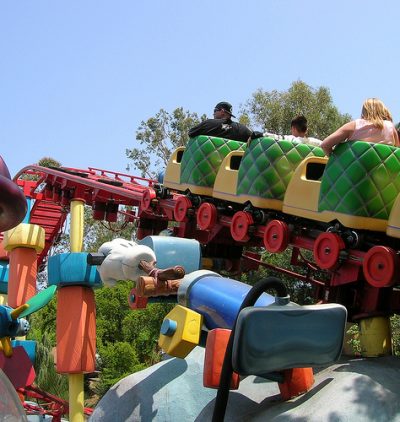 Gadget's Go Coaster Description:
On Gadget's Go Coaster, enter the home of Gadget Hackwrench, climb aboard a cleverly designed "acorn train," and get ready to go go go! Each hollowed-out acorn seats 2 passengers and is designed for one adult and one child. Depart Gadget's workshop and hold on tight as your speed off on an exhilarating spin along a winding tubular track.
During your minute-long trip, which is presented by Sparkle, race through an oversized comb, soup can and spool of thread as you reach speeds of up to 22 mph. Sail around Toon Lake—passing Donald's Boat—and enjoy the panoramic views of Mickey's Toontown along the way. And be on the lookout for a happy green frog who likes to spit a stream of water directly over your head!
Gadget's Workshop
While you wait for your acorn ride, check out the creative space of the ever-so-clever member of the Rescue Rangers team! A colorful collection of found objects makes up Gadget's amazing home where she designs all kinds of marvelous contraptions. Even various workshop tools make up her marquee:
"G" is a wrench.
"A" is a folding measuring ruler.
"D" is a saw.
"G" is a horseshoe magnet and nail.
"E" is a multi-bladed pocket knife.
"T" is a hammer.
"S" is a coiled spring.
Photo by gvgoebel
---
Disney Character(s) in this Post:
Gadget Hackwrench (Chip 'n Dale Rescue Rangers)