Gallery of Arts and History (Disney World Attraction)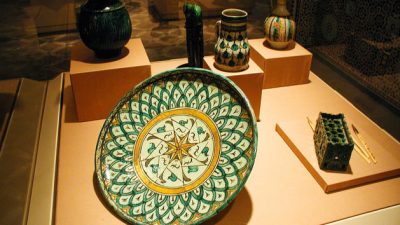 Gallery of Arts and History Description:
At the Gallery of Arts and History, experience the mystique of Morocco through the unique designs of time-honored crafts at this gallery in the Morocco Pavilion.
Enter the colorful stained-glass doors and be dazzled by displays of traditional textiles, jewelry and body art. Visit the stunning exhibit "Moroccan Style: The Art of Personal Adornment" and see how the unparalleled artistry and craftsmanship of Moroccan decorative arts are a visual representation of cultural identity.
Discover the Fantasia, an elaborate equestrian event where rider and steed alike are dressed to impress. See traditional costumes and learn about the ritual of henna tattoos as well as the meaning of the "hamsa," the palm-shaped symbol thought to ward off the Evil Eye. And, of course, behold those Berber carpets!
The space where the exhibit is housed is just as striking—every surface embellished with bold geometric shapes and delicate cutout patterns, from its ceramic floor tiles to its ironwork light fixtures.
Disney Park(s) in this Post:
Epcot
---
Related Articles:
---