Grosse Pointe Blank (Hollywood Pictures Movie)
Here is everything you need to know about the amazing Hollywood Pictures movie Grosse Pointe Blank including casting, reviews, fun facts and more. I hope you find this listing informative and helpful!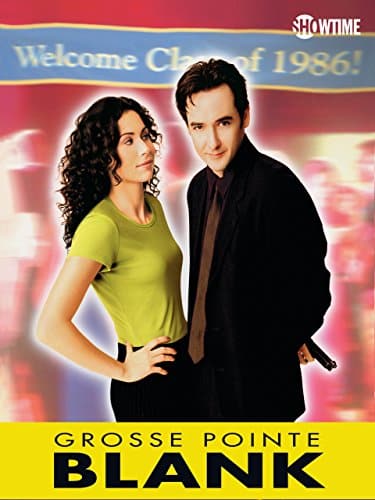 Grosse Point Blank Details:
Here's the killer comedy hit that's loaded with outrageous fun! For Martin Blank (John Cusack), a hit man stuck in a career rut, attending his 10-year high school reunion is about the last thing he's in the mood for. But when the prospects of rekindling an old flame (Minnie Driver) and pulling off one final job convince him to go, things are looking up … that is, until Martin's arch rival (Dan Aykroyd) shows up aiming to blow the competition away. For hilarious comedy entertainment that's packed with action, GROSSE POINTE BLANK is a surefire knockout!
Key Cast:
John Cusack: Martin Q. Blank
Minnie Driver: Debi Newberry
Alan Arkin: Dr. Oatman
Dan Aykroyd: Grocer
Joan Cusack: Marcella
Jeremy Piven: Paul Spericki
Hank Azaria: Steven Lardner
Barbara Harris: Mary Blank
Mitchell Ryan: Bart Newberry
K. Todd Freeman: Kenneth McCullers
Michael Cudlitz: Bob Destepello
Benny Urquidez: Felix LaPoubelle
Carlos Jacott: Ken
Jenna Elfman: Tanya
Steve Pink: Terry Rostand
Brent Armitage: Cosmo
Ann Cusack: Amy
Belita Moreno: Mrs. Kinetta
K.K. Dodds: Tracy
Bill Cusack: waiter
Key Crew:
Director: George Armitage
Producer: Susan Arnold, Donna Arkoff Roth and Roger Birnbaum
Screenplay: Tom Jankiewicz, D. V. DeVincentis, Steve Pink and John Cusack