Guardians of the Galaxy: Cosmic Rewind Roller Coaster (Disney World Ride)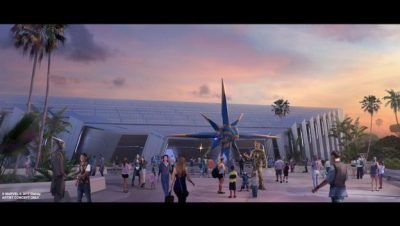 At D23 in August 2017, we found out that Disney was planning a new Guardians of the Galaxy roller coast ride in Disney World's Epcot. Here is what we currently know about the Guardians of the Galaxy: Cosmic Rewind roller coaster …
Ride Description:
We haven't been told too much just yet about the ride. Heck, we don't even know what the actual name of it will be, but Disney has told us this much so far:
Inspired by the films, the "Guardians of the Galaxy"-themed attraction will expand on the original vision of Epcot's Future World, with an epic storyline being developed by Walt Disney Imagineering in close collaboration with the original filmmakers. (source)
Here is a bit more about the ride from Bob Chapek, Disney Parks, Experiences and Consumer Products Chairman:
"On most coasters, the vehicles point straight ahead throughout the ride," Bob explained. "But on this attraction, each individual cab will be programmed to direct your eye to the story happening around you. That means instead of whizzing by the action, you'll be fully immersed in the story from the minute you launch." (source)
and here is some concept art for the ride vehicle that was shared recently: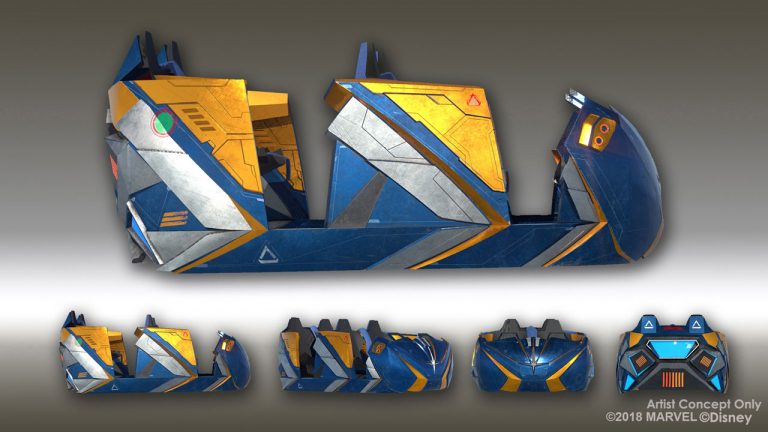 and a quick look at the ride vehicles from Disney Parks:
Here is a bit more ride detail from the D23 2019 wrap-up release:
Guardians of the Galaxy: Cosmic Rewind will be the first "other-world" showcase pavilion at Epcot. The adventure starts in the "Galaxarium," a planetarium-like exhibition that explores the similarities and mysteries of the formation of Earth's galaxy and Xandar. Guests will be invited to learn more about the treasures Xandar has to share – until the moment when the Guardians of the Galaxy arrive, and adventures across the cosmos ensue. The attraction will feature a new innovation from Walt Disney Imagineering – a storytelling coaster that rotates 360 degrees to focus guests on the action, including the first reverse launch on a Disney coaster.
Where Will the Ride be Located?
The new coast will be located in the spot formerly occupied by the Universe of Energy building in Epcot's Future World.
When will the Ride Open?
We don't have an actual date yet, but we have been told it will be open in time for Walt Disney World's 50th anniversary, which is October 2021. I suspect it will be opening around the same time as the Magic Kingdom's new TRON ride, which we have been told will open in August 2021.
Here is a quick video clip Disney Parks shared with us showing the ride's construction:
Disney Park(s) in this Post:
Epcot
---
Related News:
---
Related Articles:
---