Guilty as Sin (Hollywood Pictures Movie)
Here is everything you need to know about the amazing Hollywood Pictures movie Guilty as Sin including casting, reviews, fun facts and more. I hope you find this listing informative and helpful!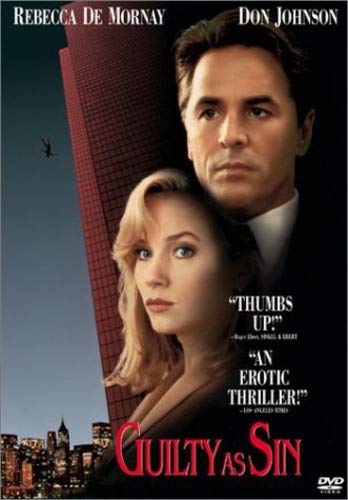 Guilty as Sin Details:
Rebecca De Mornay and Don Johnson scorch the screen in this spine-tingling, seductively sexy thriller. De Mornay stars as a sexy, hotshot criminal defense attorney who plays to win — and usually does. She meets her match when she represents a playboy (Don Johnson) accused of murdering his rich wife. The attractive lawyer, captured by her client's irresistible charm, finds herself caught in his seductive, psychological web of deceit from which there is no legal escape — and soon fears she may be his next victim. From its first startling plot twist, GUILTY AS SIN is a riveting edge-of-your-seat suspense thriller leading to a sensational climax. Don't miss it!
Key Cast:
Rebecca De Mornay: Jennifer Haines
Don Johnson: David Greenhill
Jack Warden: Moe
Stephen Lang: Phil Garson
Luis Guzman: Detective Martinez
Dana Ivey: the Judge
Ron White: Prosecutor DiAngelo
Norma Dell'Agnese: Emily, Jennifer's assistant
Key Crew:
Director: Sidney Lumet
Producers: Martin Ransohoff
Writer: Larry Cohen