Habitat Habit! (Disney World Exhibit)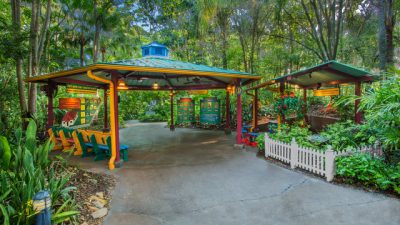 Habitat Habit! Description:
At Habitat Habit!, see cotton-top tamarin monkeys and learn how you can share your world with animals at this outdoor discovery trail.
A Path to Conservation
Stroll along a picturesque wildlife path, home to exhibits on animal conservation. This informative self-guided tour sheds light on what animals need to survive both in the wild and at home.
During your visit, enjoy the antics of one of the world's most endangered primates—the tiny monkeys known as cotton-top tamarins. Hailing from South America, these entertaining and adorable primates are named for the long, flowing white hair that fans from their head.
The first attraction you'll encounter after arriving at Rafiki's Planet Watch via the Wildlife Express Train, Habitat Habit! is a delightful educational experience—especially for kids—that shows how everyone can help with animal conservation efforts in ways you may never have thought possible. (source)
---
Disney Character(s) in this Post:
Rafiki