HarmonioUS | New Epcot Nighttime Spectacular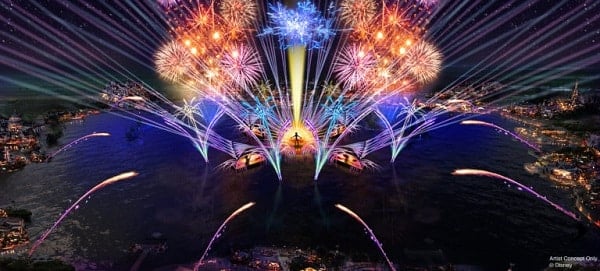 HarmonioUS Details:
When it was announced that Illuminations long run as Epcot's nighttime spectacular show was coming to an end, we were told that the Epcot Forever show was just a stopgap and a whole new show was coming in time for Disney World's 50th anniversary. At D23 2019, we got a name for this new show as well as more details. The show would be called HarmonioUS and make its debut in October 2021. Now it is here!
Here is a very high-level description of the show from a recent Disney Parks Blog post:
"Harmonious" illuminates our shared humanity, bringing to life the vision of EPCOT through a celebration of our world and its promise. Over the years, cultures from around the world have provided inspiration for Disney films and music. In "Harmonious," a global community of musical artists has come together and reinterpreted those familiar stories and songs in their own voice, honoring their respective cultures. Collectively, they contribute to a unique experience that could only happen at EPCOT, a place where the impossible becomes possible through the power of human imagination and the magic of Disney.

The show moves through three distinct chapters, inviting us to gather on the shores of World Showcase Lagoon, celebrate the countries and cultures of the world, and ultimately unite to create a bright tomorrow. "Harmonious" begins with a sunrise, and as the world awakens around us, we set out on a journey that takes us across the globe. It's a dazzling and diverse feast for the eyes and ears, from the South Pacific home of "Moana" and a Middle-Eastern interpretation of "Aladdin" to "The Jungle Book" in India, China's legend of "Mulan," the European nations that inspired "Brave" and "The Hunchback of Notre Dame," and so much more.
That's all we know for now. As always, I will be updating and adding to this post as more details become available, so be sure to check back soon!
HarmonioUS Fun Facts:
Number of songs: 15
Number of languages represented: 13
Number of artists performing music: 240
Length of show: 20 minutes
Size of the show's LED panels: 25 ft high and 88 ft long
(source)
Disney Park(s) in this Post:
Epcot
---
Related News:
---
Related Articles:
---