He Got Game (Touchstone Movie)
Here is everything you need to know about the amazing Touchstone movie He Got Game including casting, reviews, fun facts and more. I hope you find this listing informative and helpful!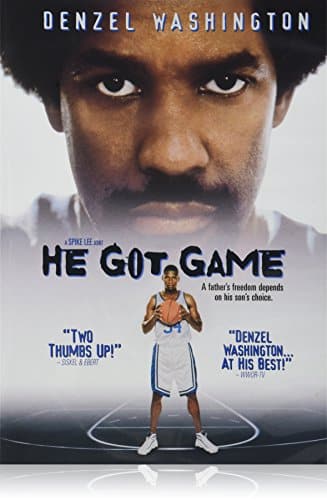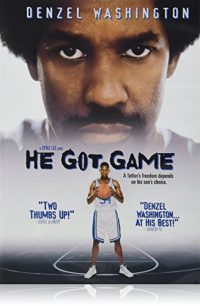 He Got Game Details:
Academy Award(R)-winner Denzel Washington stars in this must-see story about a convict given one shot at a second chance to be a father! With promises of a reduced sentence, Jake Shuttlesworth (Washington) is granted temporary release from state prison in order to persuade the nation's top basketball recruit … his estranged son, Jesus (NBA basketball star, Ray Allen), to play ball for the governor's alma mater! But just as Jesus faces intense pressures and irresistible temptations contemplating his big decision, Jake is also forced to consider not only what's best for himself … but what's best for his son! With a groundbreaking soundtrack by the legendary Public Enemy — plus great cameos from John Turturro and basketball personalities Dick Vitale, John Thompson, Dean Smith, and more, HE GOT GAME is a critically acclaimed hit you don't want to miss!
Key Cast:
Denzel Washington: Jake Shuttlesworth
Ray Allen: Jesus Shuttlesworth
Jade Yorker: Jesus Shuttlesworth (age 12)
Milla Jovovich: Dakota Barns
John Turturro: Coach Billy Sunday
Rosario Dawson: Lala Bonilla
Jim Brown: Spivey
Joseph Lyle Taylor: Crudup
Hill Harper: Coleman "Booger" Sykes
Shortee Reed: Coleman "Booger" Sykes (age 12)
Zelda Harris: Mary Shuttlesworth
Quinn Harris: Mary Shuttlesworth (age 6)
Ned Beatty: Warden Marcel Wyatt
Bill Nunn: Uncle Bubba
Thomas Jefferson Byrd: Sweetness
Roger Guenveur Smith: Big Time Willie
Lonette McKee: Martha Shuttlesworth
Travis Best: Sip
Walter McCarty: Mance
Kim Director: Lynn
John Wallace: Lonnie
Rick Fox: Chick Deagan
Leonard Roberts: D'Andre Mackey
Jennifer Esposito: Ms. Janus
Chasey Lain: Buffy (listed: Tiffany Jones)
Jill Kelly: Suzie
Al Palagonia: Dom Pagnotti
Key Crew:
Director: Spike Lee
Producers: Jon Kilik and Spike Lee
Writer: Spike Lee
---
Related Articles:
---