Heavyweights (1995 Movie)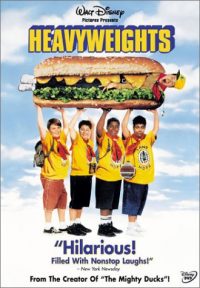 Heavyweights Description:
In Disney's Heavyweights, a group of underdog kids discover their beloved summer camp has been sold to a crazy fitness fanatic who's determined to make their lives miserable! The new owner plans to keep the boys huffing and puffing, but these hungry kids have a plan of their own. They unite to turn the tables, take back their woodsy hideaway, and challenge the rival camp to the most outrageous summer games of all!
Key Cast Members:
Aaron Schwartz: Gerald "Gerry" Garner
Ben Stiller: Tony Perkis, Jr. / Tony Perkis, Sr.
Tom McGowan: Pat Finley
Tim Blake Nelson: Roger Johnson
Jeffrey Tambor: Maury Garner
Joseph Wayne Miller: Salami Sam Dampier
Jerry Stiller: Harvey Bushkin
Anne Meara: Alice Bushkin
Shaun Weiss: Josh Birnbaum
Kenan Thompson: Roy Murphy
Leah Lail: Julie Belcher
Paul Feig: Tim Orford
Tom Hodges: Lars
Max Goldblatt: Phillip Grubenov
Allen Covert: Kenny Parry
Cody Burger: Cody Farley
David Goldman: Nicholas Wales
Judd Apatow: Homer Sxhulz
Lia Lucis: Herself
Lauren Michelle Hill – Angelic Girl-Josie
---
Related Articles:
---