I Love Trouble (Touchstone Movie)
Here is everything you need to know about the amazing Touchstone movie I Love Trouble including casting, reviews, fun facts and more. I hope you find this listing informative and helpful!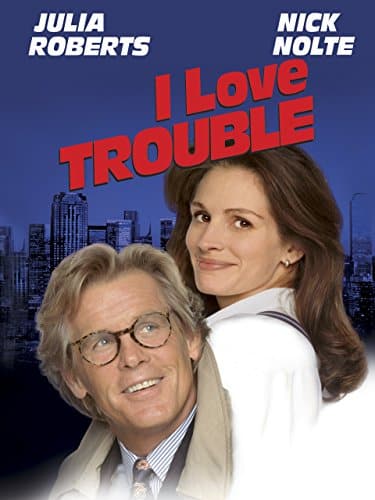 I Love Trouble Details:
Sabrina Peterson, a cub reporter on a Chicago newspaper, has a resourcefulness and quick wit matched only by her competitive spirit, which spells trouble for seasoned columnist-turned-novelist Peter Brackett who works for a rival paper. They try to outwit and outscoop each other when they are both sent to cover a train wreck, where they unearth evidence of corruption and murder. Running into each other everywhere they turn, they nearly get themselves killed scrambling for the ultimate front page story. Along the way, they gain new respect, and love, for each other.
Key Cast:
Julia Roberts: Sabrina Peterson
Nick Nolte: Peter Brackett
Saul Rubinek: Sam Smotherman/Ernesto Vargas
James Rebhorn: The Thin Man
Robert Loggia: Matt Greenfield, Chronicle Editor
Kelly Rutherford: Kim
Olympia Dukakis: Jeannie, Peter's Secretary
Marsha Mason: Senator Gayle Robbins
Eugene Levy: Justice of the Peace
Charles Martin Smith: Rick Medwick
Dan Butler: Wilson Chess
Paul Gleason: Kenny Bacon
Jane Adams: Evans
Lisa Lu: Virginia Harvey
Nora Dunn: Lindy
Megan Cavanagh: Mrs. Delores Beekman
Key Crew:
Director: Charles Shyer
Producer: Nancy Meyers
Writers: Charles Shyer and Nancy Myers
---
Related Articles:
---