Instinct (Touchstone Movie)
Here is everything you need to know about the amazing Touchstone movie Instinct including casting, reviews, fun facts and more. I hope you find this listing informative and helpful!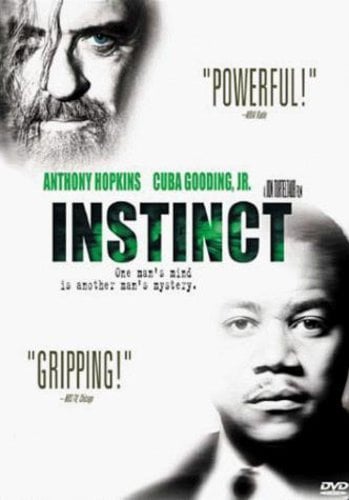 Instinct Details:
Don't miss Academy Award(R)-winners Anthony Hopkins (Best Actor, THE SILENCE OF THE LAMBS, THE INNOCENT) and Cuba Gooding, Jr. (Best Supporting Actor, JERRY MAGUIRE, PEARL HARBOR) in this highly provocative psychological thriller from the hit-making director of PHENOMENON and WHILE YOU WERE SLEEPING! In a prison for the criminally insane, deranged anthropologist Ethan Powell (Hopkins) is set to be examined by a bright young psychiatrist, Theo Caulder (Gooding). Driven by ambition and a hunger for the truth, Caulder will eventually risk everything — even put his very life on the line — in a harrowing attempt to understand the bizarre actions of this madman! Also starring Donald Sutherland (A TIME TO KILL, DISCLOSURE) and Maura Tierney (FORCES OF NATURE, LIAR LIAR) in a first-rate cast — Powell and Caulder's adventure of the mind is a riveting journey of discovery … no matter what the cost!
Key Cast:
Anthony Hopkins: Dr. Ethan Powell
Cuba Gooding Jr.: Dr. Theo Caulder
Donald Sutherland: Professor Ben Hillard
Maura Tierney: Lynn Powell
George Dzundza: Dr. John Murray
John Ashton: Guard Dacks
Key Crew:
Director: Jon Turteltaub
Producers: Michael Taylor and Barbara Boyle
Screenplay: Gerald Di Pego
Music: Danny Elfman
---
Related Articles:
---