Invincible (2006 Movie)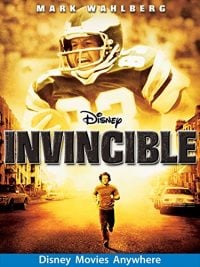 Invincible Description:
In Disney's Invincible, Vince Papale is an ordinary guy who, against extraordinary odds, gets a one-in-a-gazillion shot at living every sports fan's wildest fantasy. Philadelphia Eagles' new coach Dick Vermeil calls an unprecedented open tryout, and the 30-year-old bartender who never played college ball makes the cut. Now Vince needs every bit of his gritty, never-say-die attitude and enormous heart to survive in the high-stakes world of professional football.
Key Cast Members:
Mark Wahlberg: Vince Papale
Greg Kinnear: Dick Vermeil
Elizabeth Banks: Janet Cantrell
Kevin Conway: Frank Papale
Michael Rispoli: Max Cantrell
Kirk Acevedo: Tommy
Dov Davidoff: Johnny
Michael Kelly: Pete
Sal Darigo: Mick
Nicoye Banks: TJ Banks
Turron Kofi Alleyne: Ronnie Sampson
Cosmo DeMatteo: Dean German
Stink Fisher: Dennis "Denny" Franks
Michael Mulheren: AC Craney
Michael Nouri: Leonard Tose
Jack Kehler: Wade Chambers
Lola Glaudini: Sharon Papale
Paige Turco: Carol Vermeil
Anthony Masucci: Josh Barnes
Mike Kerley: Tom Landry
Randy Couture: "Toruci" Player #1
---
Related Articles:
---